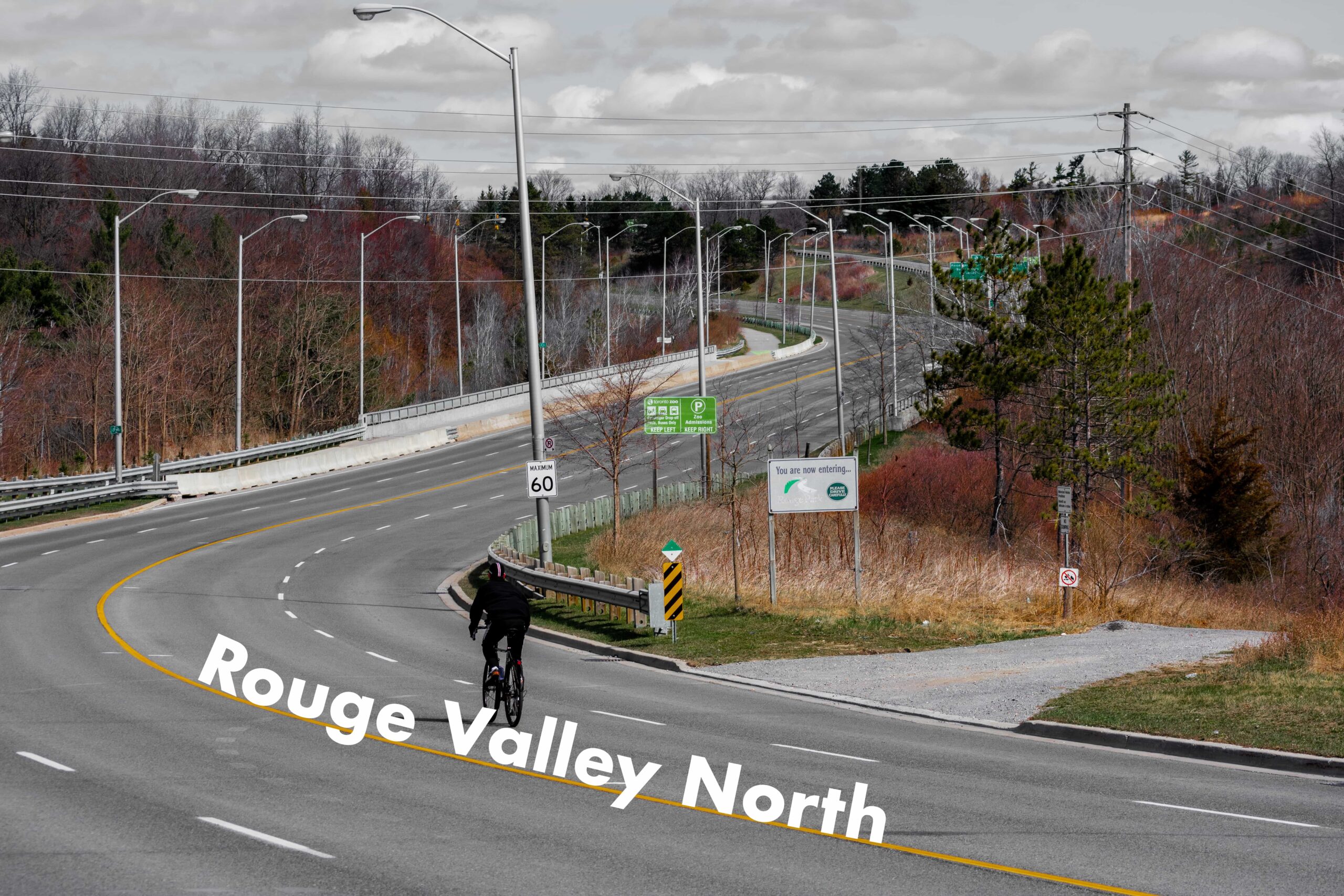 In order to understand why this ride was so 'quiet', a little context is needed. Early on in the COVID pandemic, we lacked an understanding of how COVID spreads and what the real risk in Southern Ontario looked like. How could we make sure we and others stayed safe while taking advantage of the wide open roads?
Public use trails are GREAT. The Great Trail system is definitely aptly named. BUT, we weren't the only ones who thought so. A quick ride to the lakeshore told us we had to head in a new direction. Remember to read the trail maps to see what you're allowed to ride! 
So North we went. Boy, were we in for a surprise (or several). Enough surprises that we just couldn't help but go back several times this season. We've featured an amalgamation of a handful of those rides below. Rides between April and January 2020.
At first, the empty roads were ominous. Just another reminder that the world around us was changing. Isolated. We had escaped isolation at home for a much needed break, but it felt like more of the same.
Until, we realized that empty roads meant we would ride the asphault like it was made with us in mind.
Bikes didn't come second to cars. Not on this ride at least.
Direction? North. Destination? Wherever.
We thought this all-terrain ride would be the perfect way to welcome the Surly into the stable. This is a Surly Straggler, a do it all bike. A reliable steel steed designed to handle everything, and it does that really well. Whether it's gravel riding, road or small tours – this bike has performed extremely well. Priced as an entry-level do-it-all bike, you really can't go wrong. We took a lot of the logos off, opting for the clean look and paired it with wide-gear range drivetrain and some gravel tires but more on those and other details another time. Lets get back to the ride…
Now we know what you're thinking. We did the math too.
New Ride + New Route = Disaster
Right?
Normally, we would agree with you, but there are a couple of things that aren't accounted for:
(New Ride + New Route) + Preparation = Disaster Averted
It might seem contradictory, but when free styling through uncertainty, preparation is your best friend.
Here's how we prepared:
Mini pump & inner tube

Voile (BrakeRoom) strap

Portable battery

Multi-tool

Sunglasses

Helmet

Insulated water bottles

SNACKS!

Handlebar bag to carry it all
Oh, and in case that wasn't enough, we also made sure to have a camera kit to capture our little misadventure.
Our shooting kit for the day:
Nikon D3400 Camera Body

AF-P DX NIKKOR 18-55mm f/3.5-5.6G VR lens

AF-P DX NIKKOR 70-300mm f/4.5-6.3G ED telephoto zoom lens

3 battery packs (one can never be too safe)

2 SD cards

Camera Bag
It wouldn't be a ride without a breakdown or two. On one of our more recent rips through the Rouge, mud and leafy debris posed a real problem for the Surly's fenders. But in the meantime, we weren't about to let some gunk stop our ride:
One spacer removal later and we had the clearance we needed to keep on keeping on. Lesson learned. Our next ride would be a fender-less one.
The Ride
Difficulty: Moderate | Topography: Hilly Terrain: Asphault, Gravel, Grass
The Route at a Glance:
1. Coffeeshop
2. Short Neighbourhood run
3. The Meadoway
4. The Rouge National Urban Park
5. Vista Trail 
(optional) -> Orchard Trail -> Cedar Trail
6. Meadowvale Road
8. Plug Hat Road
9. Beare Rd
10. 11th concession
11. 14th
12. Cedar Glen Nursery
13.Bob Hunter Memorial Park
Loop back!
Set in the heart of Highland Creek, we set out from our usual coffee spot in the neighbourhood – Highland Harvest.
This rustic and authentic café & serves up all the expected fixtures with a local twist. The ingredients are sourced locally whenever possible and the drinks are well caffeinated – just how we like.
Outdoor patio seating made this the perfect cyclist friendly start to our pandemic.
The Meadoway project is transforming the Toronto hydro corridor into a beautiful mixed-use path that connects you the Rouge Park again, just south of the Toronto Zoo – this is where we'll dive into the Rouge. Take the bike path on the left side of Meadowvale Rd to the Zoo and bomb east into the trail system exploring  the
Vista Trail, Orchard Trail & Cedar Trail. Prepare for dirt trail, roots and some dismounting – occasionally for stairs.  The Cedar trail will eventually put you back on Meadowvale, putting you back on track for Bob Hunter Memorial Park.
Before you know it, you're ripping down gravel trails on your way to the heart of the largest Urban national park in North America.
For those taking the GO train from the city – Rouge Hill Go Station is a hop, skip and a ride through Colonel Danforth Park away from the start of this route at Highland Harvest. Be prepared for a steep incline out of the park!
Rouge National Urban Park
The Rouge National Urban Park is the frist urban national park in Canada's hsitory. 
We dive into the park at its southern tip – just across from the Toronto Zoo. It feels like every ride we find a new lookout, meandering path or tributary. Who knows what we'll find next?
The Rouge National Urban Park is a winding interconnected set of multi-use trails and protected greenspace. We like to dive into the park from the southern-most tip located at the bottom of Zoo road.
We acknowledge the land we inhabit and ride on. The Rouge Valley is the traditional territory of many nations including the Mississaugas of the Credit.
We grew up in the Rouge Valley, and we love exploring the forest in our backyard. The newly named, 'Rouge Urban National Park' has so many interconnected segments, routes and trails that allow you to choose your own adventure. Here, we'll focus on one of our favourite sections, what we call, the
Bob Hunter Loop
. 
The Rouge Valley has a deep history after its glacial roots 10,000+ years ago. Before its ownership was stolen via the suspect 1923 Williams Treaties on seven Ontario First Nations, t
his was a key agricultural hub and travel passage for the Mississaugas of the Credit to the Georgian Bay and Upper Great Lakes.
Decades later after much European settlement, it became a cottage country eventually evolving into what it is now — 'Rouge National Urban Park'.
The wildlife in the Rouge Valley is robust. You don't have to be lucky to come across Red Tailed Hawks, Blue Heron, White-Tailed Dear, Red Foxes and even the occasional Coyote! If you stop by the Little Rouge River for a water bottle refill or a rest stop, look out for migrating aquatic life in the river. Depending on the time of the year and the amount of recent precipitation, the level of the river can vary.  
Rest Stop: Cedar Grove Greenhouse
Shaded picnic tables and a large patch of grass gives you plenty of room to stretch your legs and get rehydrated & refulled. If you're in luck the greenhouse also has freshly baked goods to give your refuelling a local touch. 
First stop, Cedar Glen Nursery. We always make a quick stop here. They have a nice big lawn up front for resting your bike and popping that granola bar into your belly. Depending on the season, you can buy some butter tarts. No water refills though.  Onwards, Bob awaits. 
Just down the road from the rest stop, Bob Hunter Memorial Park's north-east entrance opens up into an extensive and interwoven trail system.
Bob Hunter Memorial Park provides a fun mix of terrain, ranging from packed gravel, short single-track, or the winding trails around the little Rouge Creek. Check out our map and you'll see that you can choose your segments – skip the leafy, rooty stuff if you don't feel comfortable.But make sure to stop to spot some beavers along the creek or Red Tailed Hawks in the sky. 
Did you know that a Canadian co-founded the ecological conservation group, Greenpeace International? That person is the namesake of this park, Robert Hunter — Bob.  
We never met Bob, he passed in 2005, but we wish we had the opportunity to have a conversation with him. Surely he'd tell us his tales of voyaging to Alaska in 1969 to oppose US nuclear testing – the trip that helped birth Greenpeace.
We hope he'd also share stories of confronting Russian harpoons while dying the fur of seal pups, making their fur worthless for purchase
or maybe about his reflections authored in "Occupied Canada: A Young White Man Discovers His Unsuspected Past." or "Thermageddon: Countdown to 2030" — we have a feeling there wouldn't be much talk about his Governor General's Award or being named one of the "Eco-Heroes" of the 20th century. Bob, we'd ride with you any day. Rest in Greenpeace.
Confession time. We often (maybe too often) find ourselves racing the sunset on our way back home. This ride was no different. The ride out was meadering, but the ride back? An all out time trial.
But, even then…the setting sun and wide open farm fields provided a backdrop too stunning to say no to. This, all from this ride in June. 
What's the best way to end a ride? Admiring the mud buildup on our trusty steeds over beer and fries, of course.
It's safe to say we have a lot more ground to cover and adventures to uncover northward. 
Just around the corner is an adventure waiting for you. All you have to do is be prepared and say yes. We hope this ride will treat you well, no matter your riding experience and comfort, choose your own adventure.
Oh and put wrenches to roads.