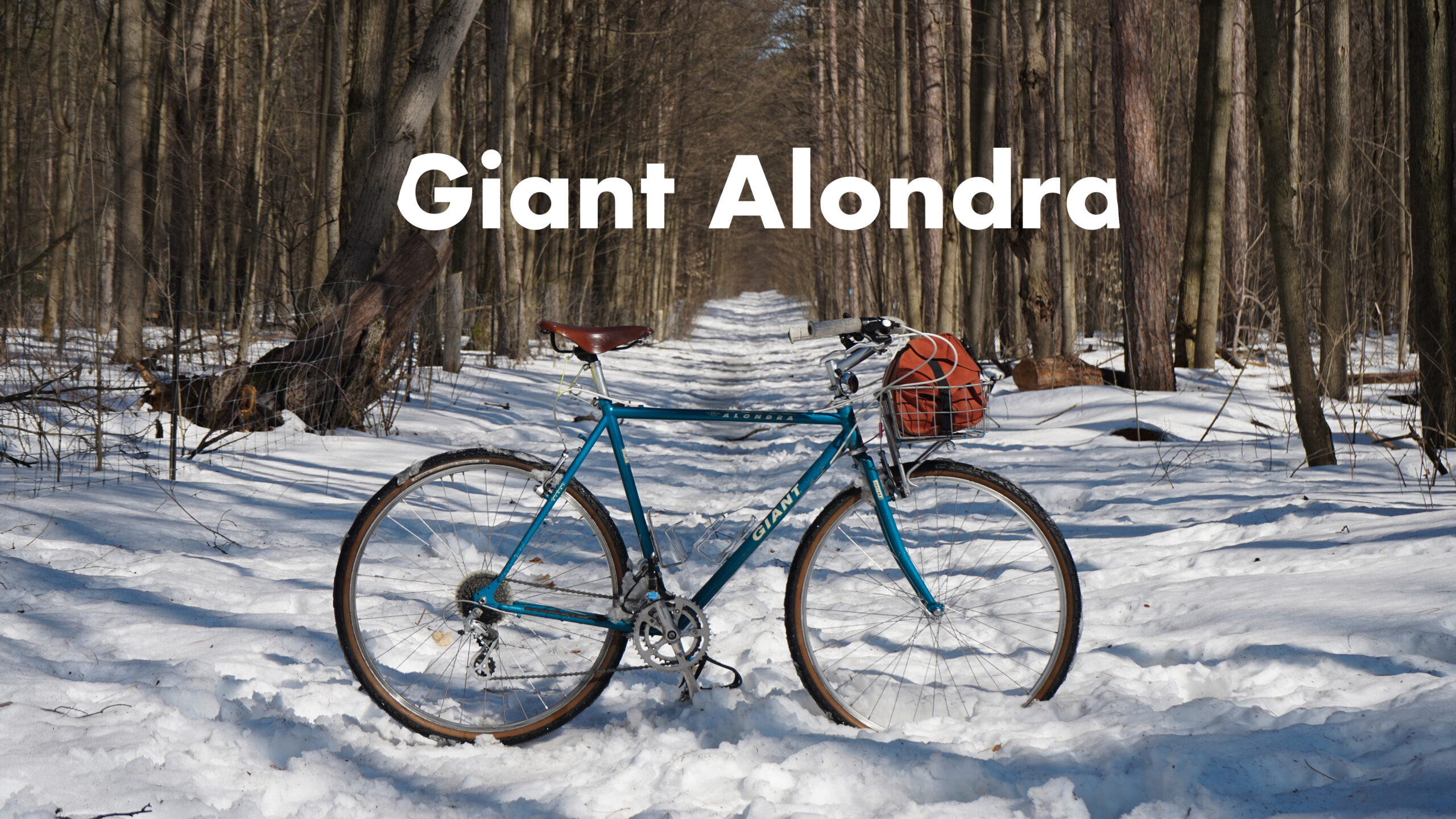 Old bikes ride hard, and old bikes can take you on new adventures! The 90s steel-constructed hybrid is a stealth bike that can often be transformed into an all-road rig that still supports you through many types of riding and terrain. 26″ definitely ain't dead, but these 700c wheel-sized bikes ain't either. They might even be a bit easier to find.
Loaded with good tire clearance and braze-ons for racks, fenders, luggage and the sort. If you're looking in the right places, you'll find the frame's build quality to be impressive and components to be solid. We found this Giant Alondra on Marketplace and it didn't disappoint, especially for $60!
"26" definitely ain't dead, but these 700c wheel-sized bikes ain't either. They might even be a bit easier to find."
After a full disassembly, we started to envision what this bike could become, we wanted to be super comfortable , have the ability to handle different types of terrain — some gravel (obvi), road and neighbourhood coffee outside rides. We took inspiration from Rivendell and UltraRomance builds and ended up here. If you follow us on instagram, you know we love swept back bars — they can offer multiple riding positions and our favourite one: watch-the-world-super-chill. Naturally, a front rack and Wald 137 basket for carrying stuff. We threw on some good, reliable thumb shifters, swapped cantilever brakes out for some V-brakes and put on a longer stem to make room in the seating position with the new bars. Oury grips always. We paired with a nicely worn Brooks b17 saddle that travels across our bikes. So comfy, so good.
"26" definitely ain't dead, but these 700c wheel-sized bikes ain't either. They might even be a bit easier to find."
This bike has 'ATS', 'All Terrain Fitness Sport' badged all over 7 literal times, Giant knew what was up, and they left these little messages for us to discover 31 years later. They future-proofed this thing to shred 30 years later. This bike was made in 1992, take that in…this bike is probably better than most budget bikes you'll find brand new on the sales floor. 90s bike fonts rock, no? So much panache, so much fun. Made in Taiwan, the frame is tig-welded, double butted chro-moly steel. Anyways, it's durable, well made and pretty COMFY.
We had a lot of fun building this bike up and the only brand new parts on it are the tires, brakes and cables. A compact double crankset up front, 7 speeds in the back make for a low-maintenance drivetrain that serves us pretty well for most applications. Some 90s Shimano MTB derailleurs for some added toughness, and and old school analog 'Hite-Rite' dropper for the seat post when we hit the single track. Double water bottle cages for all your hydration needs ;P
Tire clearance for days! We were able to throw in some modern 700x43c Panaracer Gravelking SKs in there with loads of clearance to spare. It's a good balance that provides some plush riding while leaving space for mud, leaves…and snow! These tires offer a great performance on trails and on the road, we're so happy with them. 
 A big shout out to the handlebar bag from the homie Max (@g_e_r_s) and the Safety Donut (!) from the other homie Taryn (@t.leigh) — some super peeps, doing cool local, Canadian stuff. We're going to wrap this up and let you enjoy the pictures, this bike wasn't expensive and it shreds hard. Old bikes, new adventures!