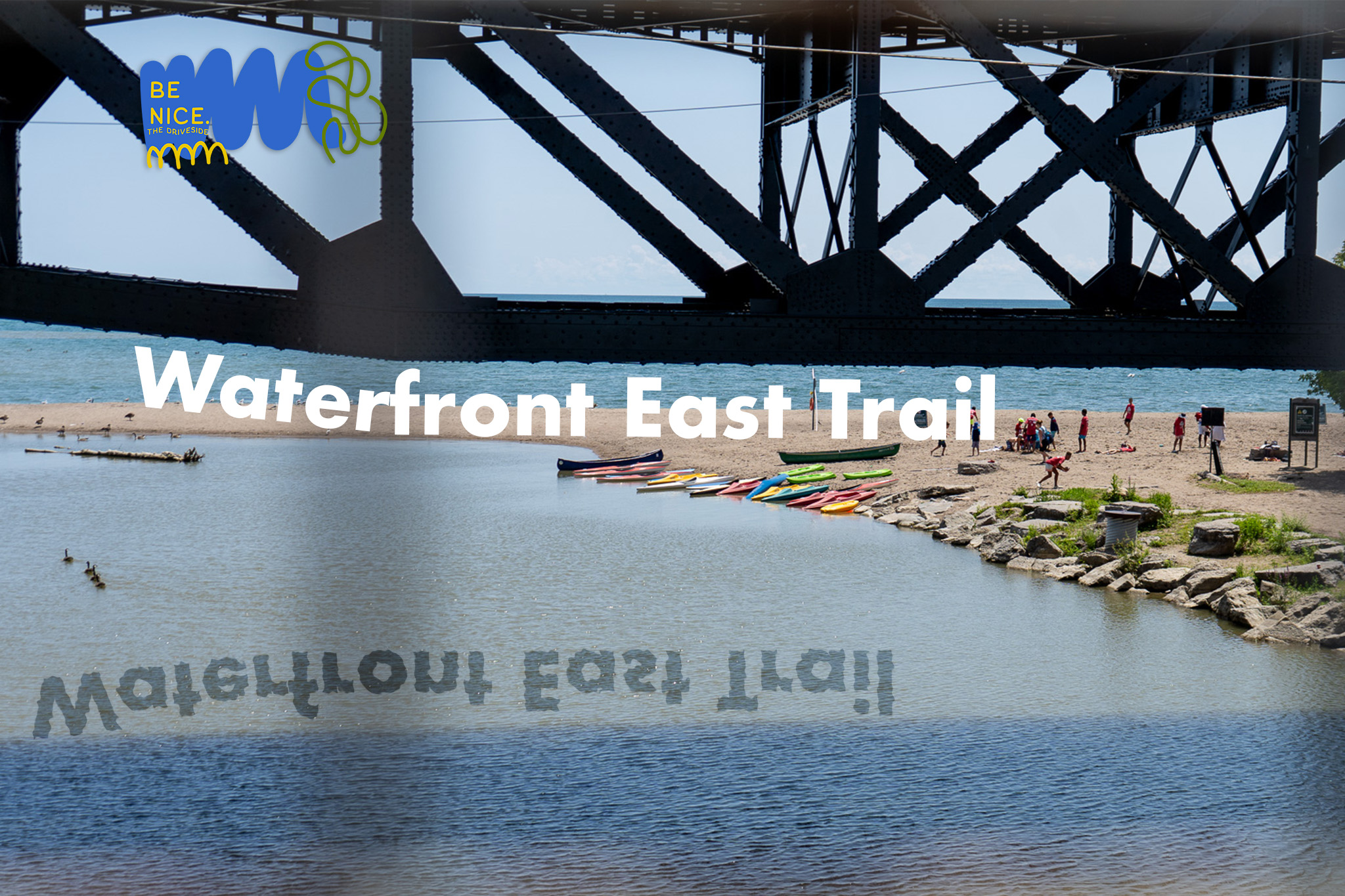 The Waterfront East Trail is a hidden gem for cycling. As we describe the route, it extends from east Scarborough to Darlington Provincial Park in Oshawa. This route traverses 5 different cities (Scarborough, Pickering, Ajax, Whitby and Oshawa), while passing through over 15 parks, 6 wildlife conservation areas and countless beaches… who doesn't love a cute beach? 5 GO train stations, too.
We ride and feature stolen land. The Durham Region is made up of the traditional lands and territories of the Nations covered under the Williams Treaties. These are stolen lands of Mississaugas of Scugog Island First Nation, Haudenosaunee,
Curve Lake First Nation, the Alderville First Nation, Hiawatha First Nation, Chippewa Nations of Georgina Island Beausoleil and Rama.
When we started riding bikes again, this was our ground for exploration. Every ride we'd venture out just a little further… and further. What we love most about this route is the GO train (& bus) access, allowing you to choose your own adventure. With 5 GO station stops, you can choose to start and end your ride anywhere along the way, #partypace lifestyle. Lots of food and water stops available on this route!
We're setting the destination of this route as Darlington Provincial Park, a great place to camp and try bikepacking if you're into it.
The Ride
Distance: 51.2 km | Elevation Gain: +115 m / +6.4%
Difficulty: Easy | Topography: Flat |Terrain: Gravel, Paved Trail, Grass, Single Track
The Waterfront east trail really opens up out east, weaving and flowing along the Lake Ontario shoreline. Within just a few kilometres you can transition from riding along the water to being perched atop a cliff overlooking southern Ontario in both directions – bring your binoculars!
We love this route for building up cycling experience and distance training, it's mostly flat and paved but is sprinkled with features like some gravel, grass and bridges to keep things lively. 
This is a multi-use path, so you'll encounter families, walkers, dogs and more. Be nice and share the path – don't be one of those ones, k? If you're looking to set speed records, this isn't the route 🙂 
For more of the Waterfront Trail west of Rouge GO, you can take a look at our 'Scarborough South Loop' story here, with attention to section 1 'Guildwood GO Station to Doris McCarthy Trail and Gates Gully'
User guide: Click to expand the illustrative map below, of the full ride. The Ride With GPS map above can be used with the mobile app to guide your ride This RWGPS map, also featuring the full route.
Scarborough
Pickering
Ajax
Whitby
Oshawa
Darlington Provincial Park
Let's break this route down into 6 segments:
1. Scarborough – Rouge Hill GO & Lawrence Beach
Difficulty: Easy | Topography: Flat w/ descent Terrain: Paved Trail
We'll be starting this route going eastbound on the Waterfront Trail from Scarborough's Rouge GO station. There's a feeling of '
ok, we're not in the city anymore
' that begins here. As you roll out of the Rouge GO station, it puts you directly on the Waterfront Trail towards Rouge Beach. In case one of your bottles is empty out of the door, water refill station #1 is just outside the beach changerooms. 
Rouge Beach is a lively, favourite destination of ours with some wonderful features like the beach's peninsula, the ride up to the truss bridge that rolls over the creek with a great view of the water. With trains rumbling overhead, you'll quickly connect to an arch bridge that'll port you over into Pickering… squint a little and it feels like BC. 
2. Pickering: Nuclear Power plant, Frenchman's Bay
Difficulty: Easy | Topography: Flat Terrain: Paved Trail, Sandy Beach
The Waterfront Trail eastward has a few neighbourhood jogs, where you'll weave into residential neighbourhoods to get back to the shoreline. Be on the lookout for the Waterfront Trail signs to keep you on track.
Frenchman's Bay is a cute stop with lots of food options – get your coffee, icecream, eats and a bevvy if ya like – the chip truck is a cute time, and makes appearances during fairweather.. As you ride back to the shore, the Beachfront Park has been washed out so you'll need to hike-a-bike for ~100 metres before you get to rideable paths again. Water refill station #2 along this ride is just outside the beach change rooms. You're right at the Pickering Nuclear power plant now. Enjoy the brutalist and barren, wasteland-ish vibes to wrap things up in Pickering.
3. Ajax: Lion's Rotary, Ajax Waterfront, Duffins Pond, Lyndshore Conservation
Difficulty: Easy | Topography: Flat Terrain: Paved Trail, Packed Gravel
One of the many reasons that we love this route is its diversity in terrain with changes to the path and sights every few kilometres. The Ajax waterfront is flowy, open parks on the north side and cliffs on the shoreline. The real treat is the Lynde Shores Conservation Area – which is just its own thing.
The conservation area offers open fields with long and broad winding paths. We've snuck in a gravel loop here that's a must-do in our opinion. Lynde Shores Conservation Area is a vast and expansive wildlife sanctuary. You're pretty much guaranteed to see turtles, wild turkeys, deer, blue herons and other birds (of prey), but don't feed and generally don't be a dummy, please. Check the trail maps for where it's friendly to ride your bike, respecting wildlife conservation is a vibe.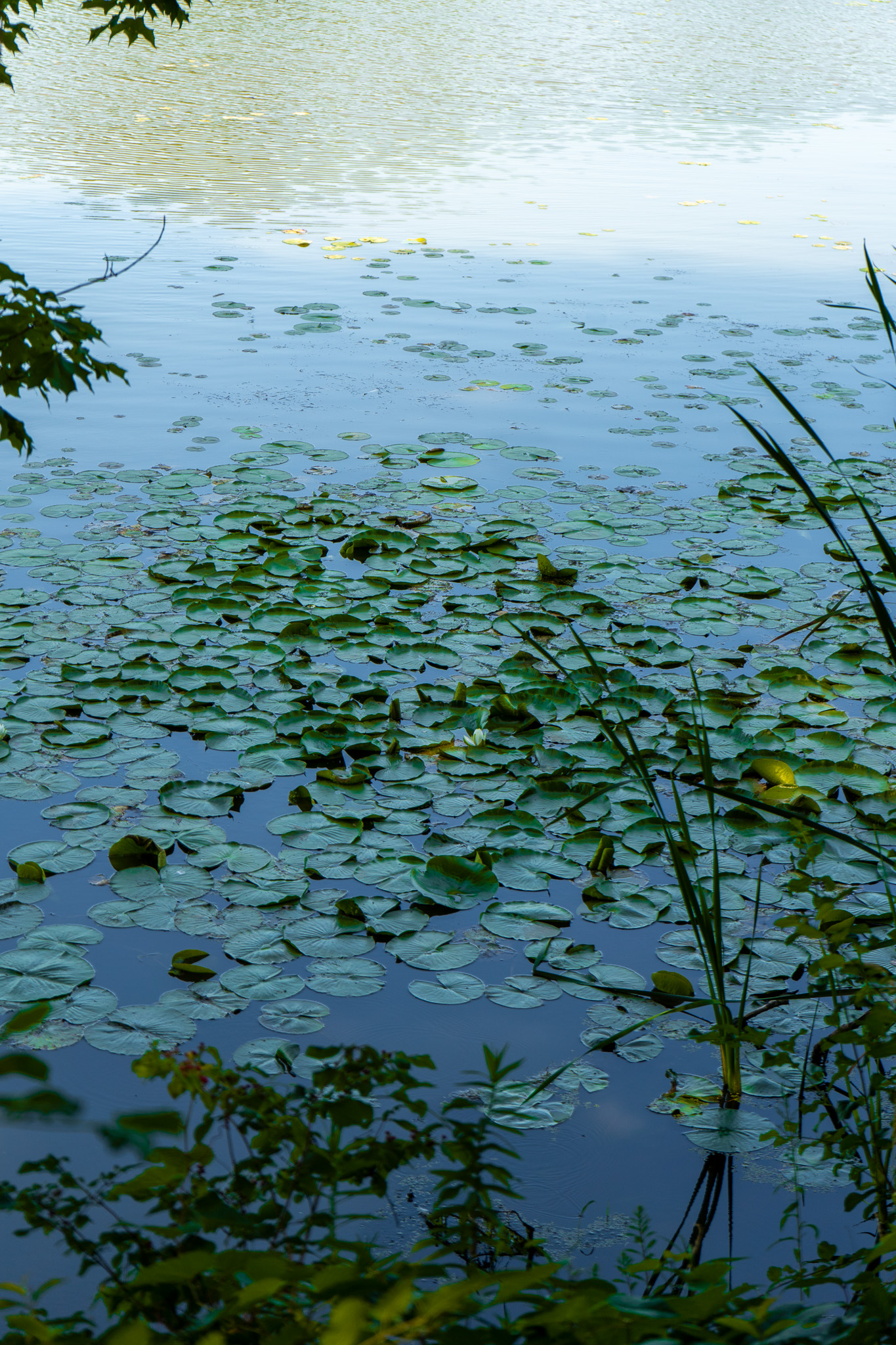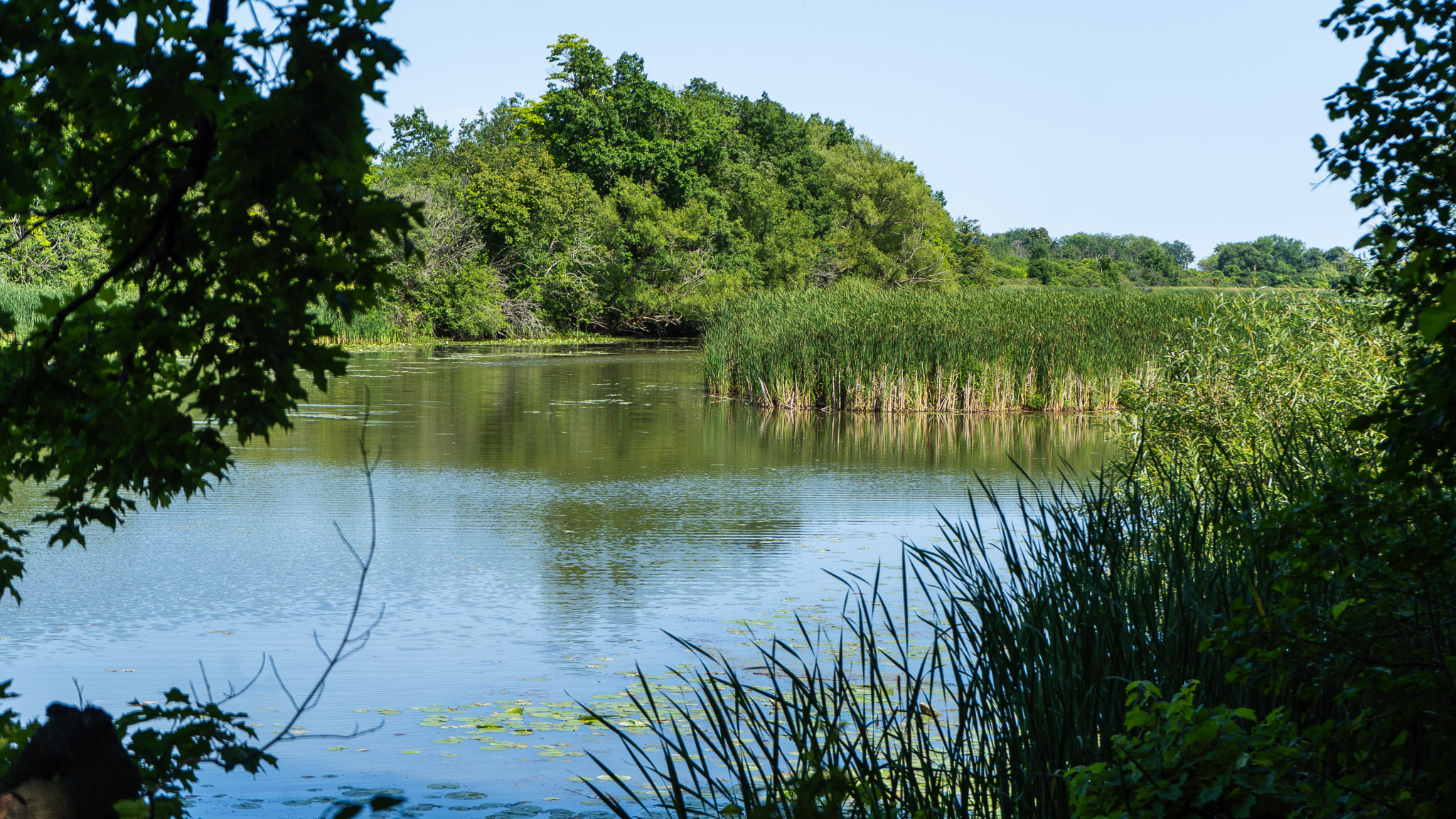 4. Whitby: Waterfront, Iroquois Beach, Port Whitby Marina, Rotary Sunrise Lake Park 
Difficulty: Easy | Topography:  Flat Terrain: Paved Multi-Use Trail, Gravel
Whitby is a bit tamer than Ajax and shorter in distance, too. What we most appreciate about Whitby's waterfront is that they've decidedly made it a pollinator's destination – almost the entire waterfront is lined with wildflowers. It's beautiful. Kiwanis Heydenshore Park and Gordon Richards Park are highlights for this and we always stop and literally smell the flowers that grow cliffside. Port Whitby Marina is a chill time; be careful as you approach the lighthouse though, as there's no guard rail.
5. Oshawa: Pumphouse March Wildlife Reserve, Nelson Mandela Point, Oshawa Second Marsh, McLaughlin Bay Wildlife Reserve 
Difficulty: Easy | Topography:  Flat Terrain: Paved Multi-Use Trail, Gravel
Last stretch, let's go! Oshawa's waterfront trail offers something different – a juxtaposition of industrial warehouses (some abandoned) and marshes and conservation areas. The path gets quiet in some of these areas and it's clear that they're not traversed as much as the other, more western, sections. Oshawa's waterfront trail sections actually don't touch much of Lake Ontario at all.
Oshawa is home to some of southern Ontario's most diverse marshlands and there's 3 that you'll come across: Pumphouse Marsh Wildlife Reserve, Oshawa Second Marsh, McLaughlin Wildlife Reserve. All this before you hit the destination of this route: Darlington Provincial Park.
6. Darlington Provincial Park
Difficulty: Easy | Topography:  Flat Terrain: Paved Multi-Use Trail, Gravel
Darlington Provincial Park, we made it. While you can keep adventuring on the waterfront trail eastward to places like Newcastle, Cobourg (which we recommend!)… Darlington always feels like a natural end-destination/turn-around point. Whether you end up camping overnight, or just staying a bit, there's lots to explore and see at Darlington: trails, super cute beach, ice cream! Taking a dip in the lake is the perfect way to end any day of riding.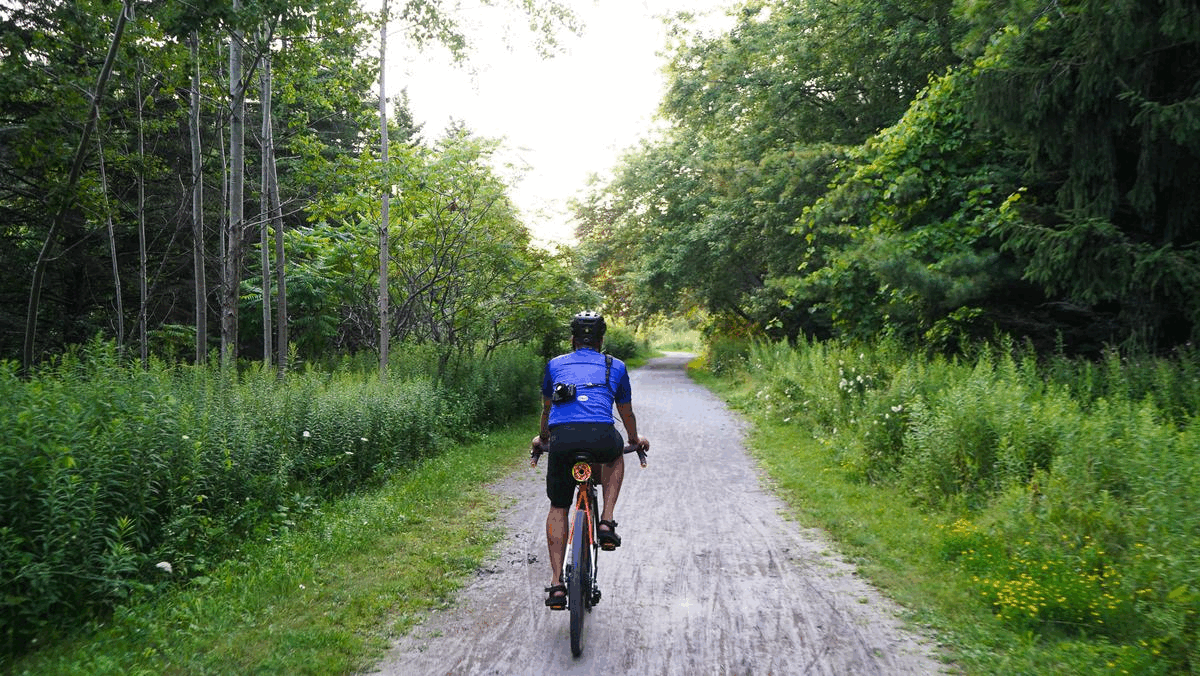 We hope you enjoy the Waterfront Trail East as much as we do. Every time we ride it, we end up discovering something new. There's something special about a ride along such a big and powerful body of water and we feel pretty fortunate to have such a great trail that lets us ride along it. We hope you enjoy this route, happy trails… and waves, y'all.
A note about accessibility: chasing sunsets is much easier when you know there's a train waiting to get you home. This route features GO train stations at 5 different points. Start and end your ride at any of these points and you can adjust the length of the overall ride!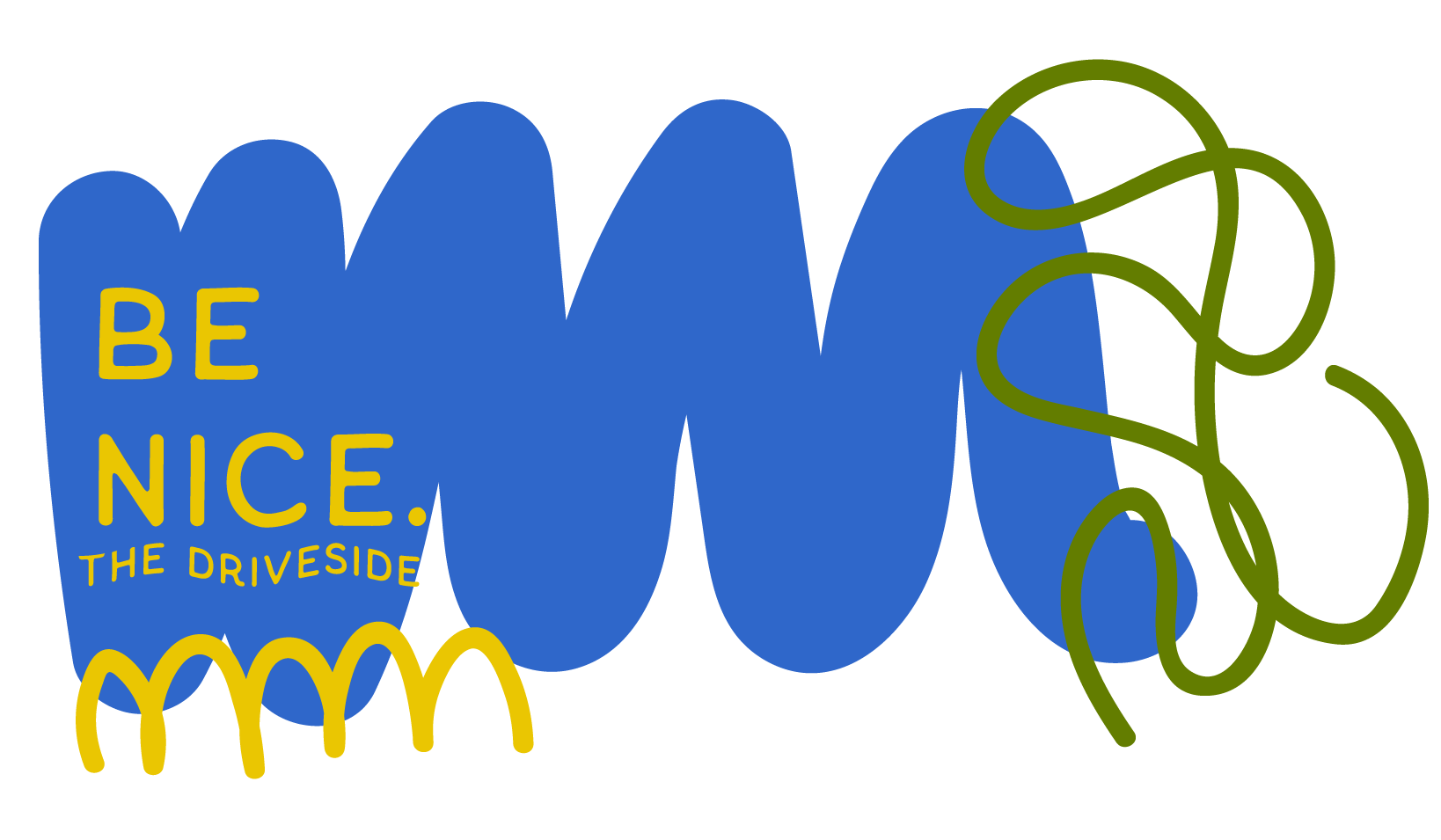 Hello there!
If you've found this, you've probably been following our journey over the last few years. Without your incredible support, we would not be able to do the work to create space for cycling adventures for everyone. We will continue to share our stories, routes and spread kindness as long as we can.
We do not run advertisements or work with brands, so if you've purchased merch, we could not be more grateful. If you cannot, your kind words are more than enough. For those that would like to contribute to the continued existence of thedriveside.com, you also have the option of buying us a coffee each month. Any & all contributions are deeply appreciated <3
Be Nice, Ride a Bike, Repeat.
– Jimmy & Gurinder