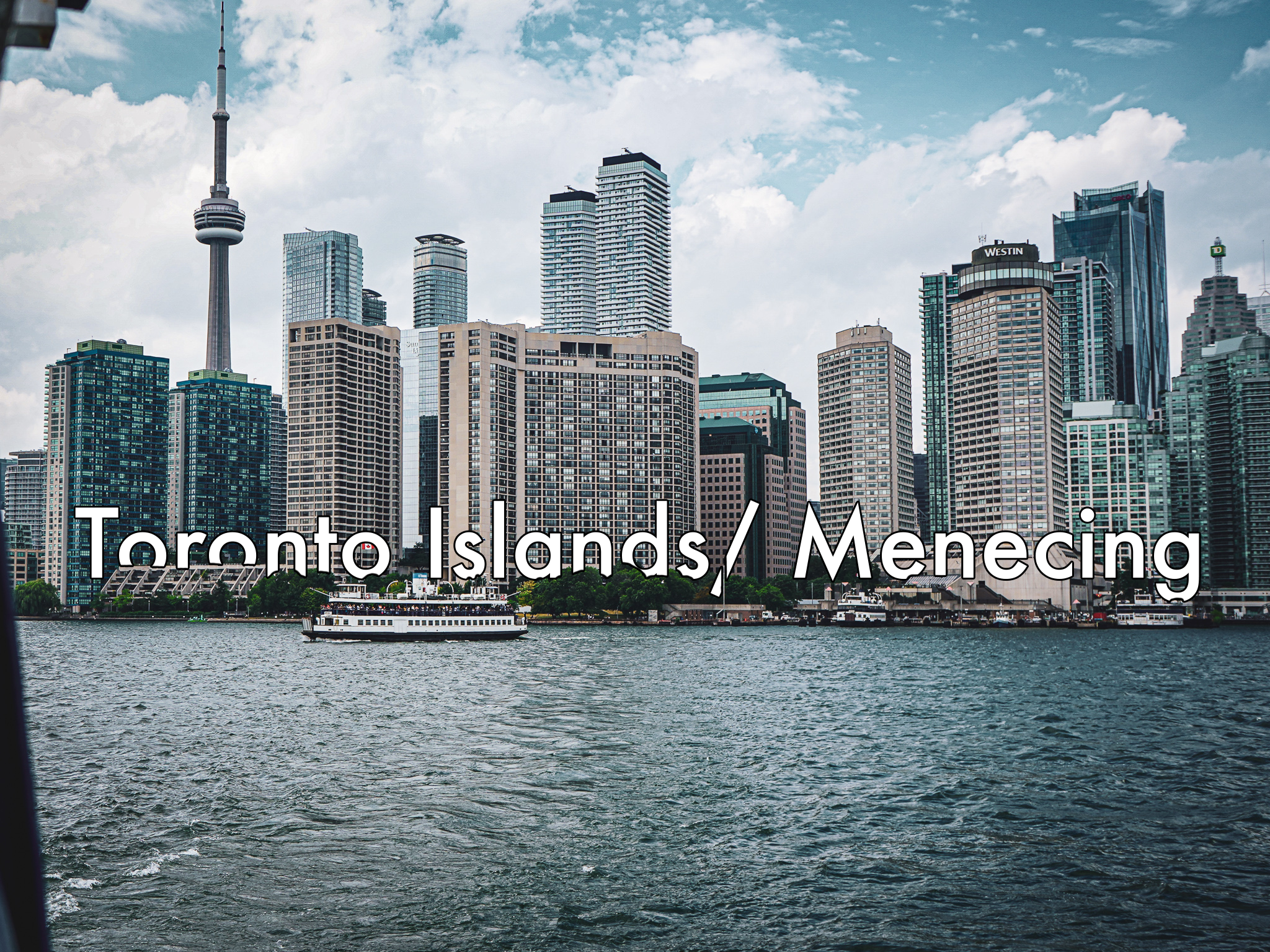 We couldn't be more excited to revisit the Toronto Islands/Menecing Route that inspired us to start documenting this journey in the first place. So let's do the thing. As long as we can remember, the Islands have played the role of a fun escape in our lives. Alice had to go through a looking glass to get to her Wonderland, but for us it's always only been a short ferry ride away. The sight of the looming city skyline getting further away and soon replaced altogether by Eastern Cottonwoods brings a strange comfort. We hope exploring the islands with all their (its?) surprises brings you back to feeling like that little kid on their Supercycle. Enjoy! 
Land Acknowledgement
We ride stolen land. Let's acknowledge the land we and The Toronto Islands inhabit the traditional territory of many nations including the Mississaugas of the Credit, the Anishnabeg, the Chippewa, the Haudenosaunee and the Wendat peoples and is now home to many diverse First Nations, Inuit and Métis peoples. We also acknowledge that Toronto is covered by Treaty 13 with the Mississaugas of the Credit. 
The Toronto Islands or 'Menecing' (meaning "on the island" in the Ojibwe language) have long been a place of refuge from the hustle of daily life and later the bustle of the city. The Mississaugas of the Credit used the island for rest, relaxation and healing of their sick since the birth of the islands.
There has been a community of both tent and Victorian homes since 1862, as the land was considered by settlers to have been included in the Toronto Purchase of 1787 and 1805. It's important to note though that the Mississaugas of the Credit First Nation continued to dispute the legal ownership of the land as recently as 1986 when the Government of Canada settled the land claim with a cash payment.
The Ride
Difficulty: Easy | Topography: Flat |Terrain: Asphalt, Gravel, Grass, Sand
The islands are predictably flat and the route is no different, meaning we can shift our focus from pedaling furiously to enjoying the
Friliutsliv
or
"open-air living" in Norwegian. That's what this ride is all about, getting outside and taking the time to appreciate being outdoors. It's democratizing access to the outdoors. You don't need to ride 100kms to enjoy a day trip on your bike. This route is, dare we say, the perfect way to give that cycling day trip you've been thinking about a try on for size.
The terrain is a balanced combination of paved & gravel paths as well as wooden boardwalks that just sound so satisfying under your tires. Dudunk dudunk dudunk dudunk. Ahhhhhh. You hear it right? The paved paths are infrequently serviced, so watch out for potholes! 
The Islands multi-use paths weave through open grass fields tagged with some signs promoting walking on the grass…that made us double-take. Awesome!
Unlike our other rides, no RWGPS map here for your phone or bike computer. The Island's winding and intercrossing routes are a bit more wondrous without a step-by-step navigation, but we hope this journal and map shows you most of the highlights.
Sections:
Ward's Island – 
Cottages, beach, boardwalk, cafe, disc golf
Snake Island – 
skyline view, coffee outside
Centre Island & Centreville – 
petting zoo, amusement park, garden, Toronto Island Marina
Gibraltar Point – 
beach, lighthouse, artscape
Hanlan's Point – 
nude beach, airport
A Few Heads Up
One of the reasons we love the Island is just how accessible it is. A short ride from Jack Layton Terminal at Queens Quay later and you're there. You can purchase a ticket for the ferry at the terminal, but we'd recommend beating the lines by purchasing
online
before you go. The terminal connects to the Islands at 3 different docks: Ward's Island, Centre Island & Hanlan's Point. Ward's Island is usually the least busy ferry and has plenty of room aboard for your bikes. Each of these stops is serviced every half an hour during the summer, but you can find the full schedule
here
. If you're someone who gets seasick don't worry, the entire ride takes about 15 minutes including boarding and devesseling. There are also water Taxis available if you miss your ferry.
If you don't have access to a bike, the island also has rentals available for single, tandem and quadricycle bikes. If you go this route, we'd recommend taking the ferry to Centre Island, where the rental shop is located.
If you're interested in spotting local wildlife during your ride, checkout this wildlife guide we found.
The Islands are at risk of flooding during spring each year. Keep your eyes peeled and do some research before you go to make sure you're prepared for closures and equipped to handle the wet! If you're curious to learn more about how flooding is threatening to swallow the islands, check out this
report
.
The Quaint (Hippie?) 250-home cottage community on Ward's Island is a reminder of the larger formerly 600-home town that once inhabited the Islands. The story of the fight between local residents and City Council is an interesting one, but we won't spend much more time covering it here. The resulting community is similarly full of character. The rows of houses are separated by car-free streets, just wide enough to fit a cargo bike – which there is no shortage of. Vegetable and floral gardens are teeming with life. Mailboxes are retrofitted into weather-proof galleries of one, showcasing local Ontario artists. 
Just West of the Ward's Island neighborhood is a baseball diamond and open field, filled with people lounging in the sun. This is the perfect place for a mid-day picnic or coffee outside if that's your jam. Visitors and residents of the island can usually be found bringing their dogs here for a little playdate. 
Just across the field you can find the
Island Cafe
– a full service sitdown restaurant with a focus on sustainability. There's a banging patio –  a people & bike watching gem, truly. The first thing that catches your eye is probably the beautiful old quadricycle parked out front, with a custom sunflower paint job. 
Bordering the neighborhood to the south is Ward's Island Beach. If you're looking for a spot for a quick stop, this is perfect, but if you want to make yourself at home at the beach we would recommend you keep on rolling towards the other beaches.
Ward's Island Beach transitions into the classic wooden boardwalk that, fun fact, is essentially the birthplace of the Drive Side. Check out the shots of the Creamsicle Holdsworth we took to document our first ride below: 
Oh and did we mention…adjacent to the boardwalk is an entire 18 basket course weaving its way between the buildings in this stretch of the island. The first basket is just past the Firehall for reference.
Oh and did we mention…adjacent to the boardwalk is an entire 18 basket course weaving its way between the buildings in this stretch of the island. The first basket is just past the Firehall for reference.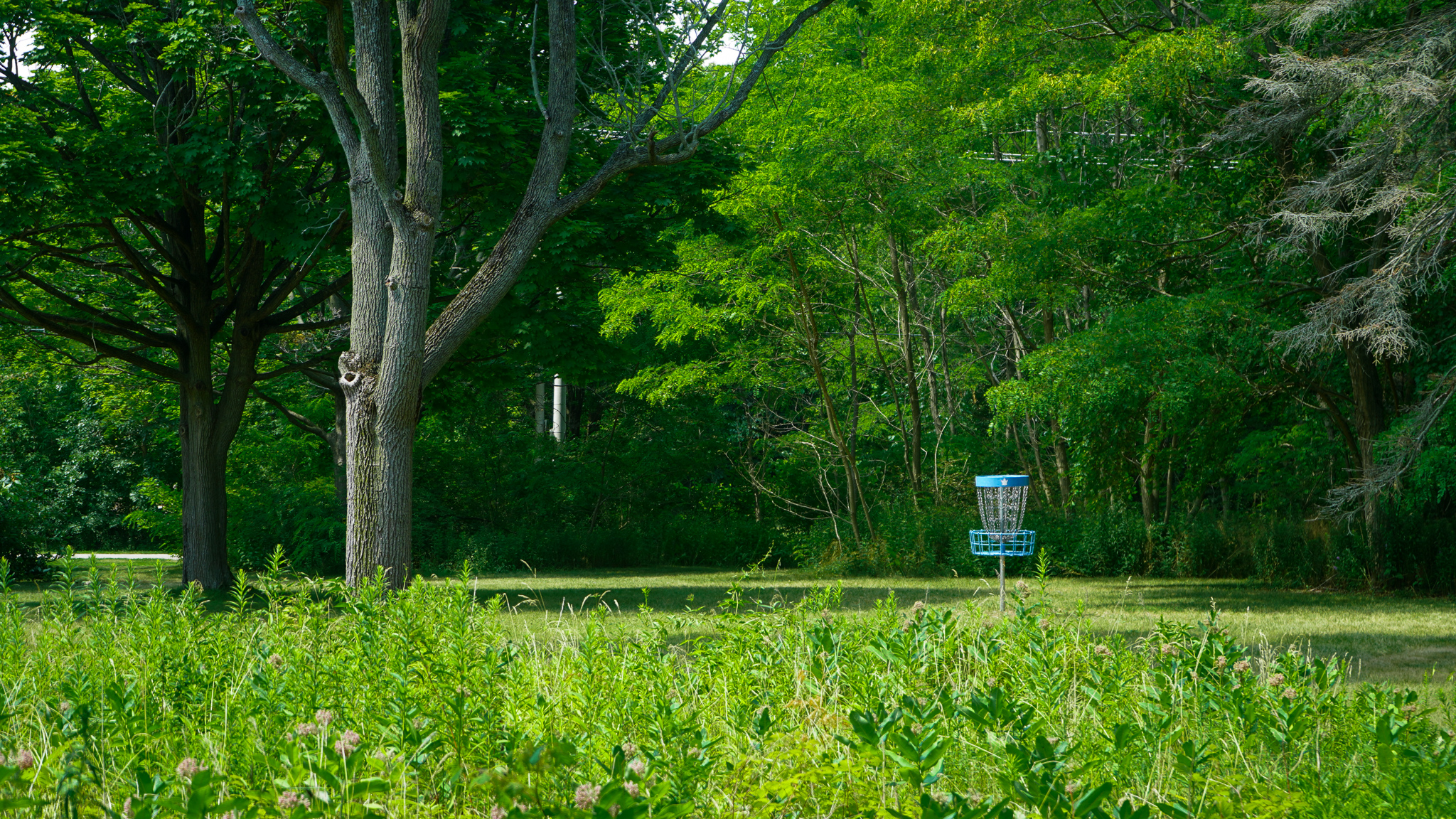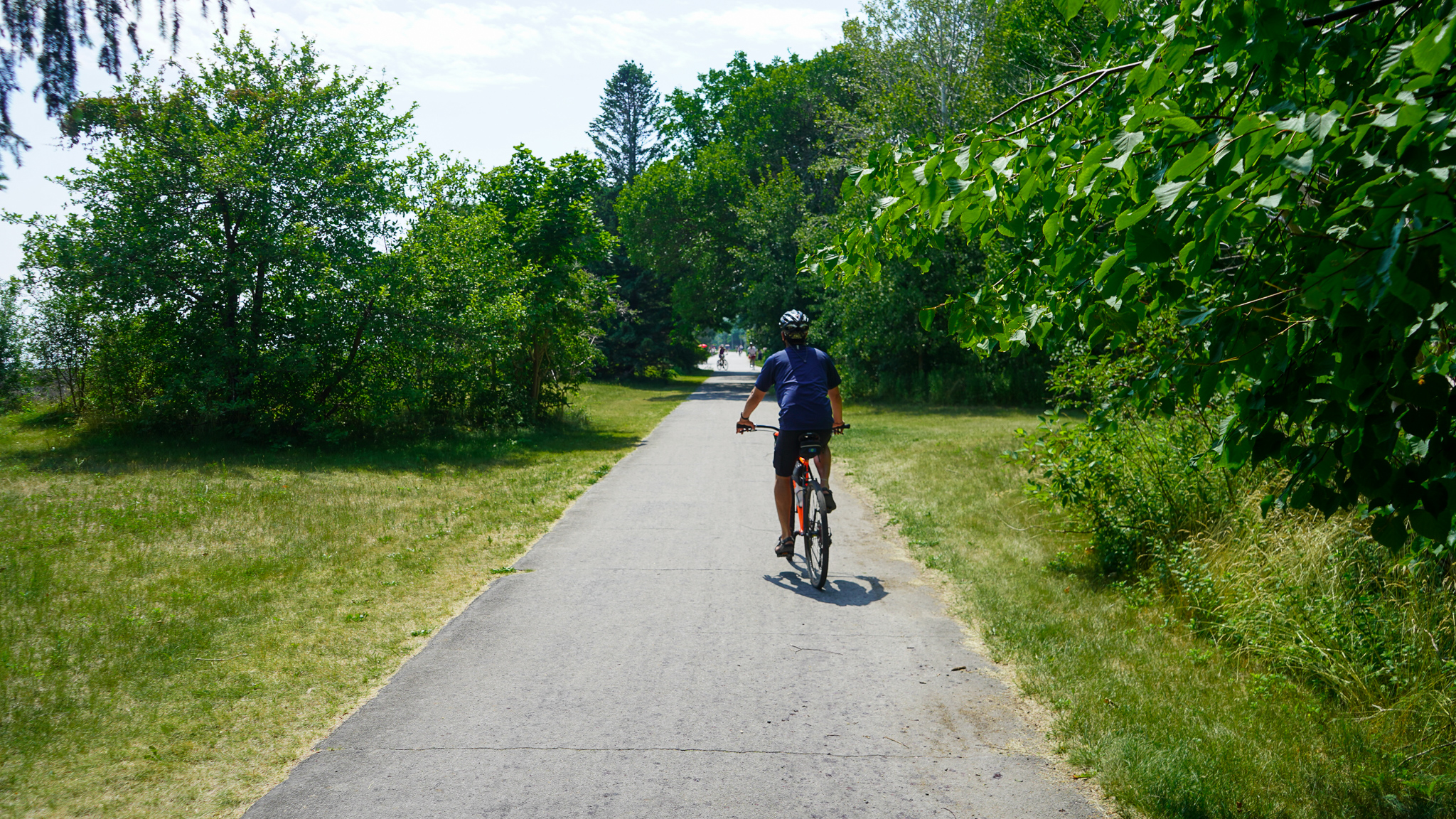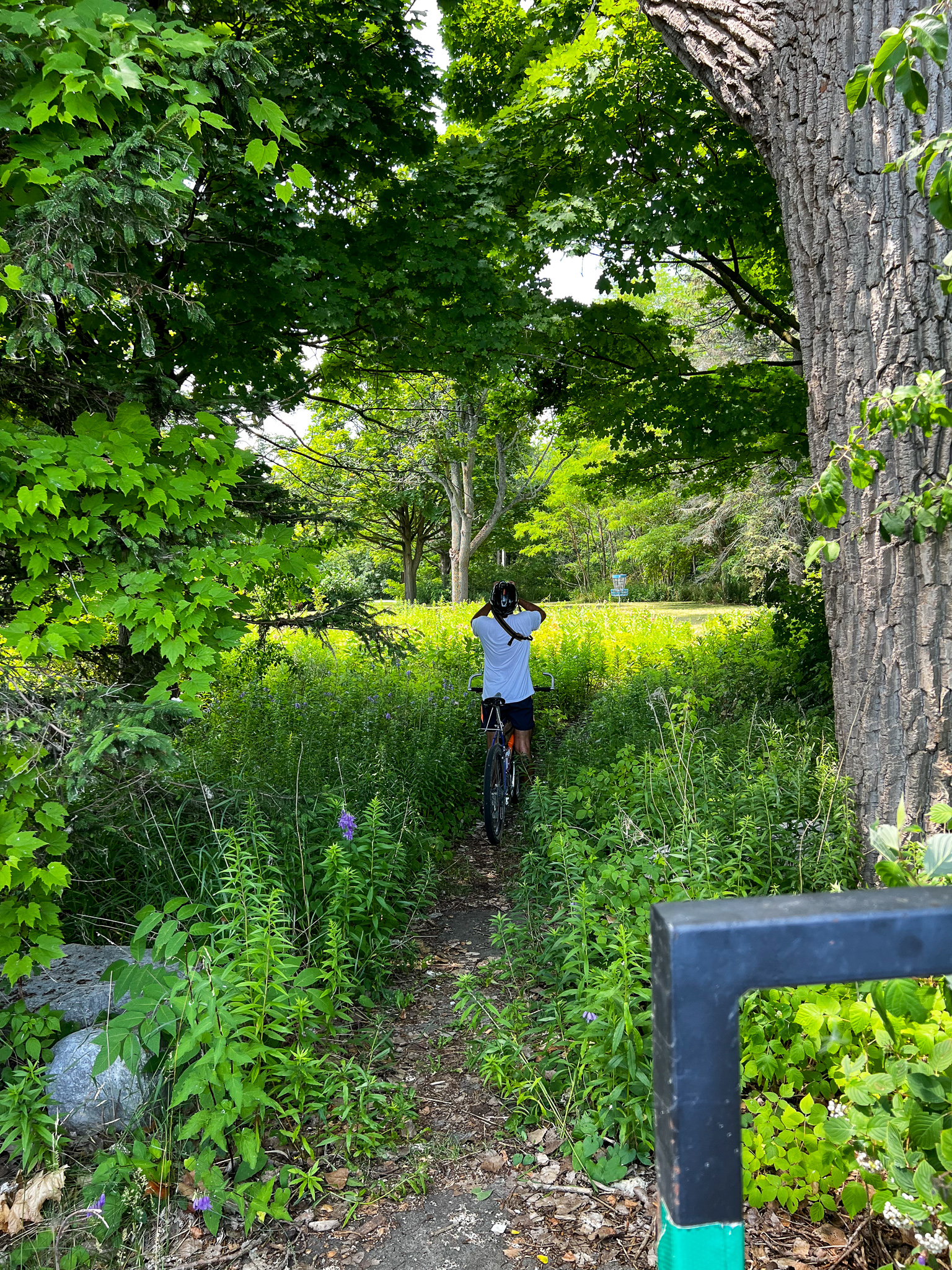 Fork in the road time: if you're up for a small detour to Snake Island – so worthwhile, also no snakes – you'll want to follow the pathway due North. A small wooden bridge with the ominous words 'Snake' and 'Island' will greet you. This little island feels like a secret. It's surrounded by trees and hidden away from the rest of the island. We should also mention, it has one of the best views of the city skyline the islands have to offer. Another perfect place for a coffee outside.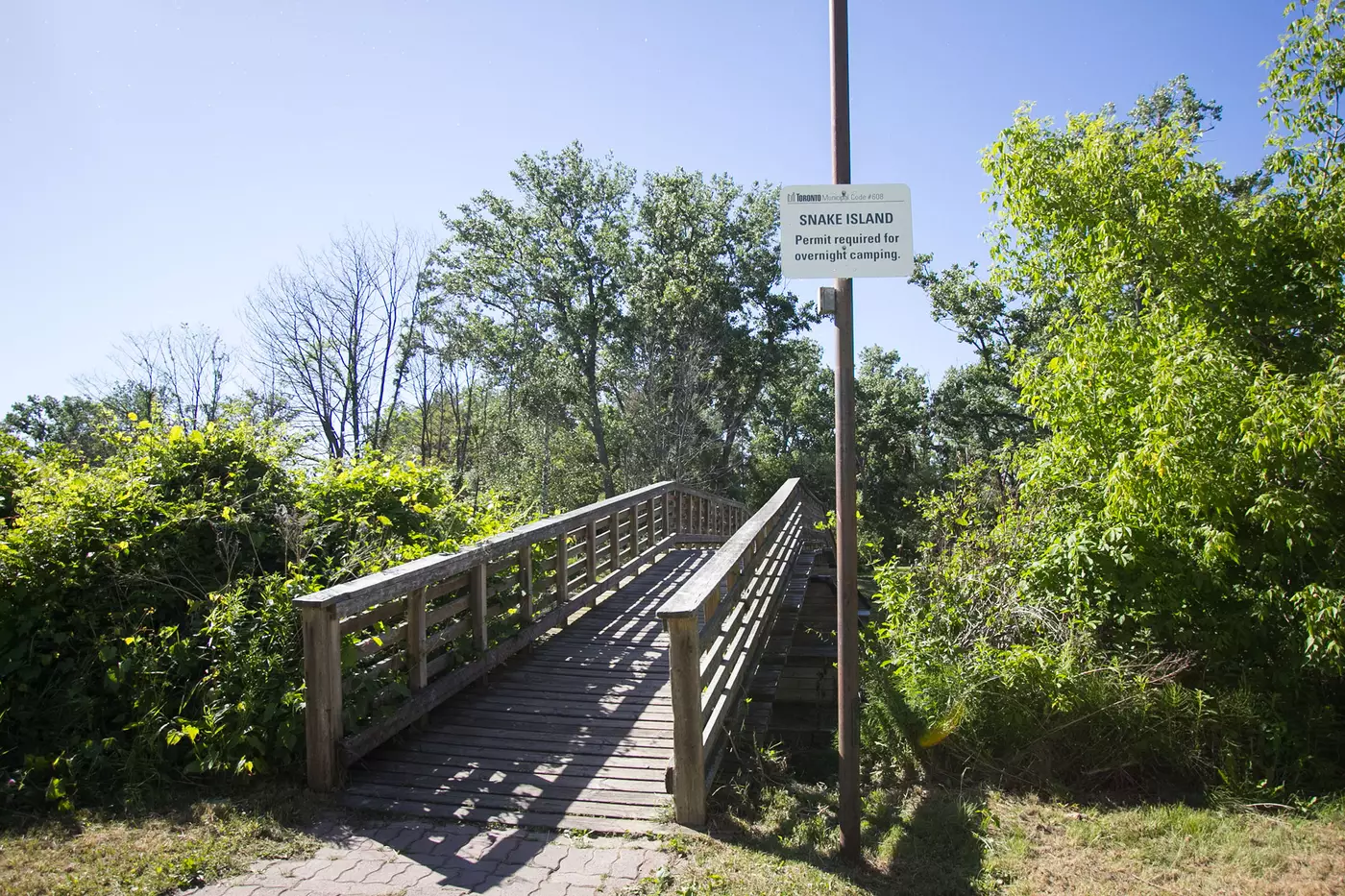 Image Source: https://www.blogto.com/city/2018/06/what-see-and-do-toronto-islands/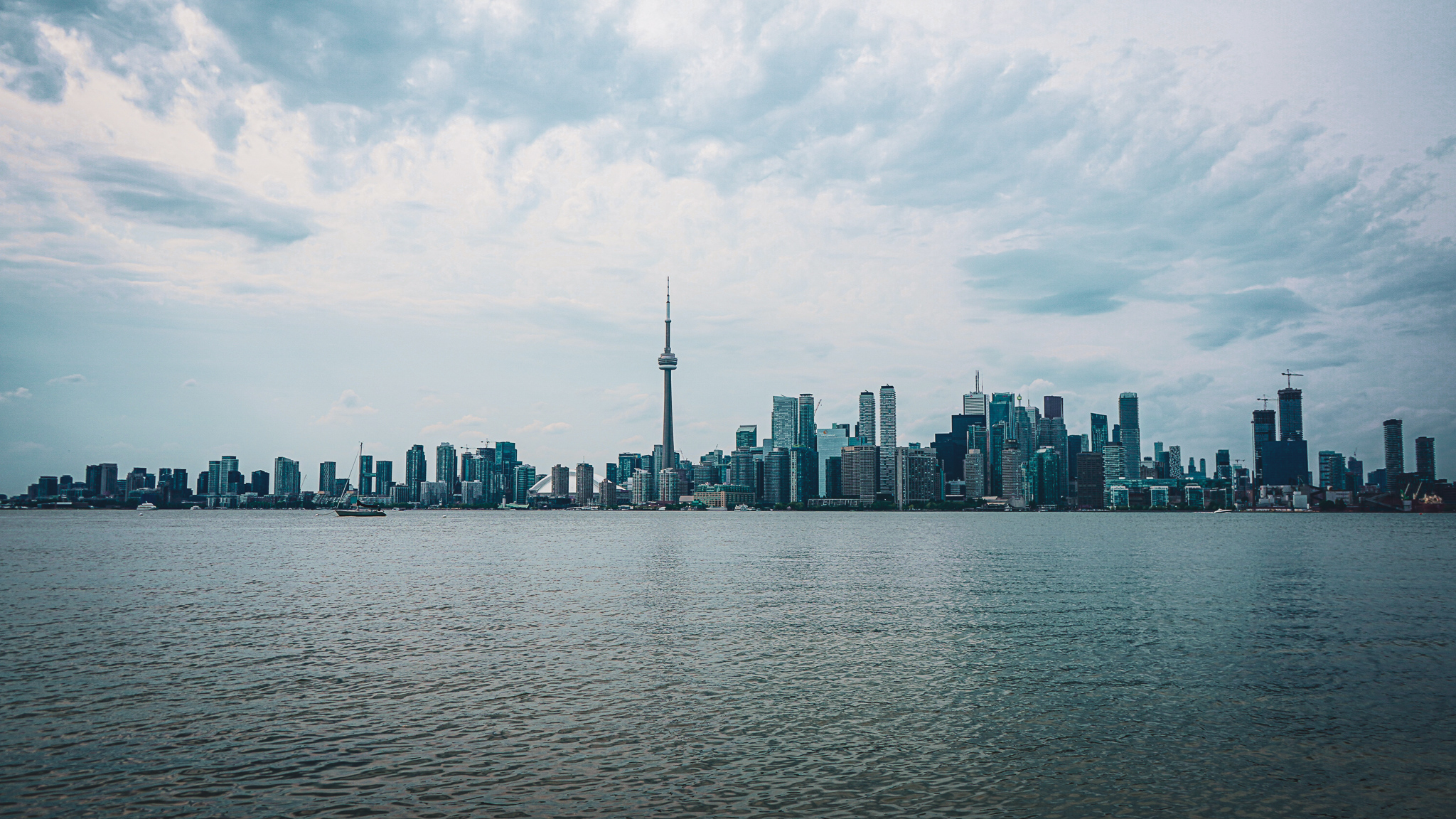 3. Centre Island & Centreville
Centre Island consists of an open promenade with central fountain and a bridge that crosses over into the aforementioned wonderland, Centreville. 
As you cross over the big arched bridge, take a look to the waters on the left to see the Regatta Course, home to Dragon Boat races annually. On the shore of Centreville you can see the grandstands overlooking the water. 
Before too long, you'll feel the pull of carnival music and laughter urging you to cross the bridge into Centreville. 
As kids, Centreville felt wondrous and HUGE. Years later, the former is still true. Laughter is infectious, and Centreville has plenty of that to go around. Between the carnival rides, chairlift & petting zoo, there's no shortage of things to keep children (& your inner child) engaged. I'm sure we're not unique in having countless photos as kids exploring this wonderland. On a magical rainy ride in 2019, we were greeted by free-roaming peacocks, granted we're not sure if this was planned or a happy accident. Either way, we were blown away. 
Toronto Island Marina
If you ride past the Centre Island Ferry Terminal, eventually you get to the Toronto Island Marina and its semi-hidden Upper Deck Bar. Riding through the dry dock in the marina, you'll find people working away on their boats and if you look even closer between the rows, you might notice a few bikes locked away and long forgotten.
The Upper Deck Bar – visible from the ferry on your ride in, its nestled between Hanlan's Point and Centre Island. We stopped for fish & chips and beers on our ride and they definitely hit the spot. 
Just across the water from Centreville on the East is
The Island Church
. To reach it, back track your way across the bridge that connects to Centreville and hug the water to your left. It's a beautiful old building and worth the detour to admire the architecture, if that's your thing. 
Make your way back to the huge fountain at the foot of the bridge and continue westward toward the Franklin Turtle Garden, a community education hub with programming around cultivating and harvesting vegetables and the role of pollinators in our ecosystems. Look out for the Monarch Waystation signs. Keep riding west to enter Gibraltar Point.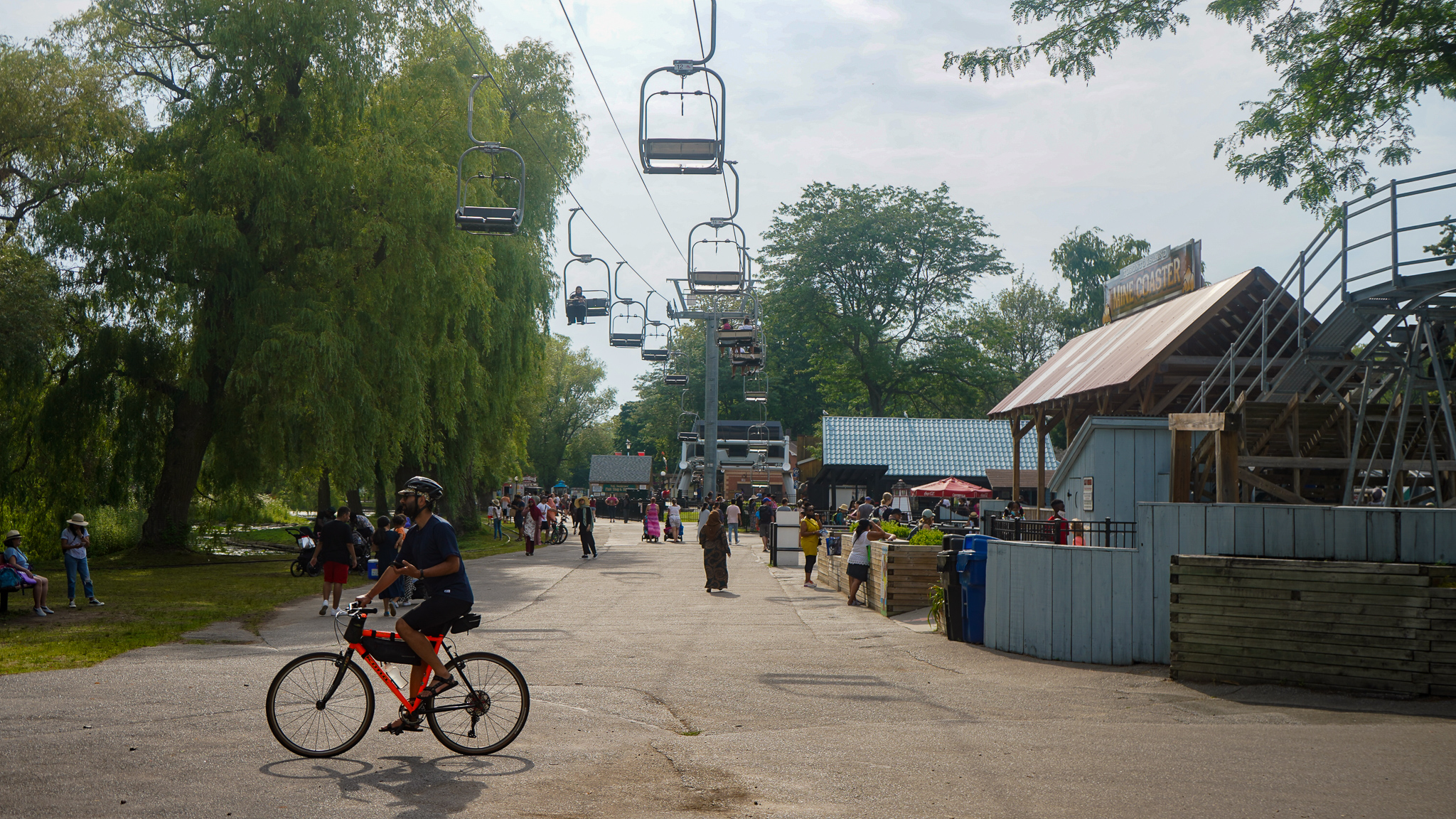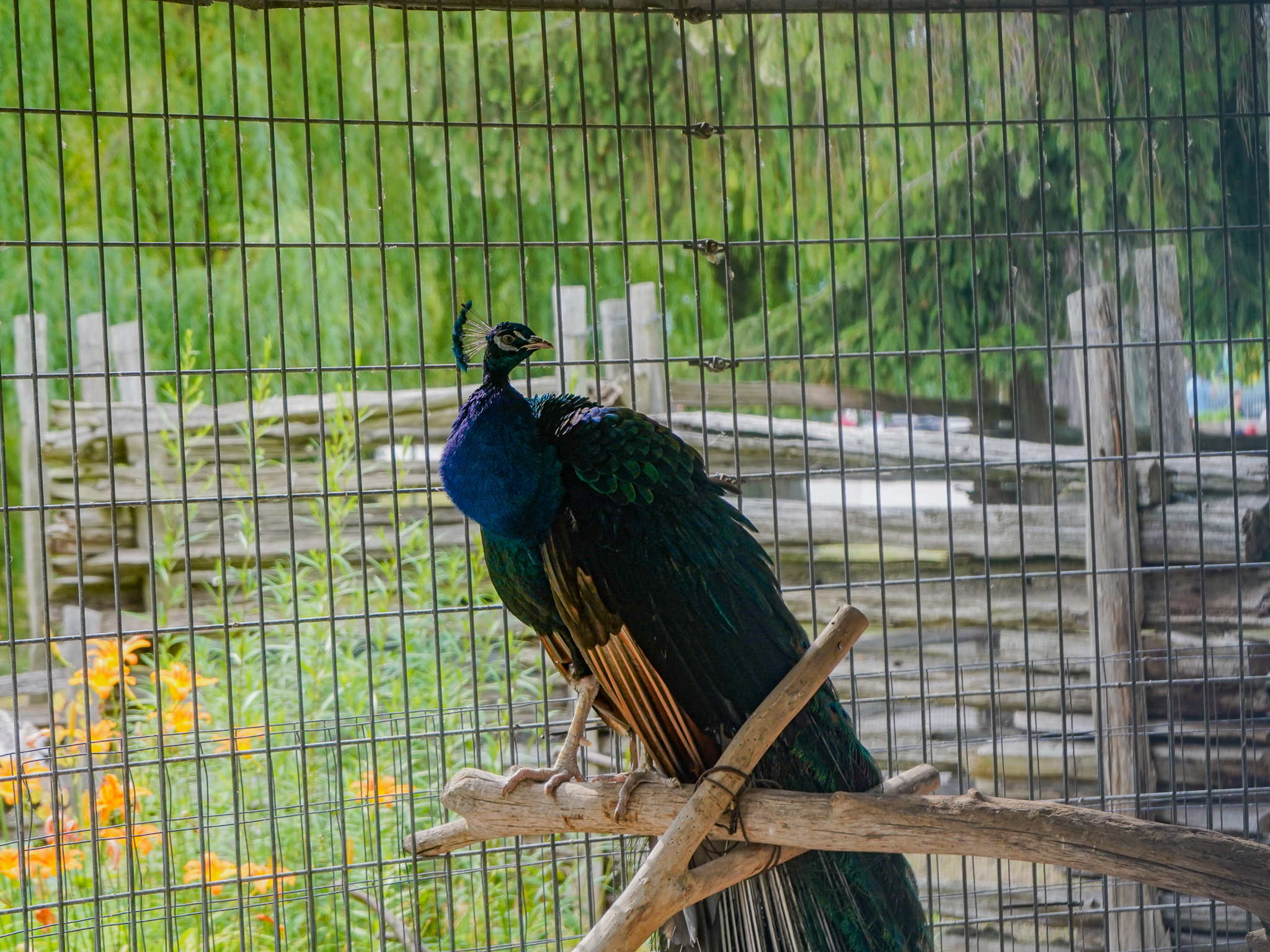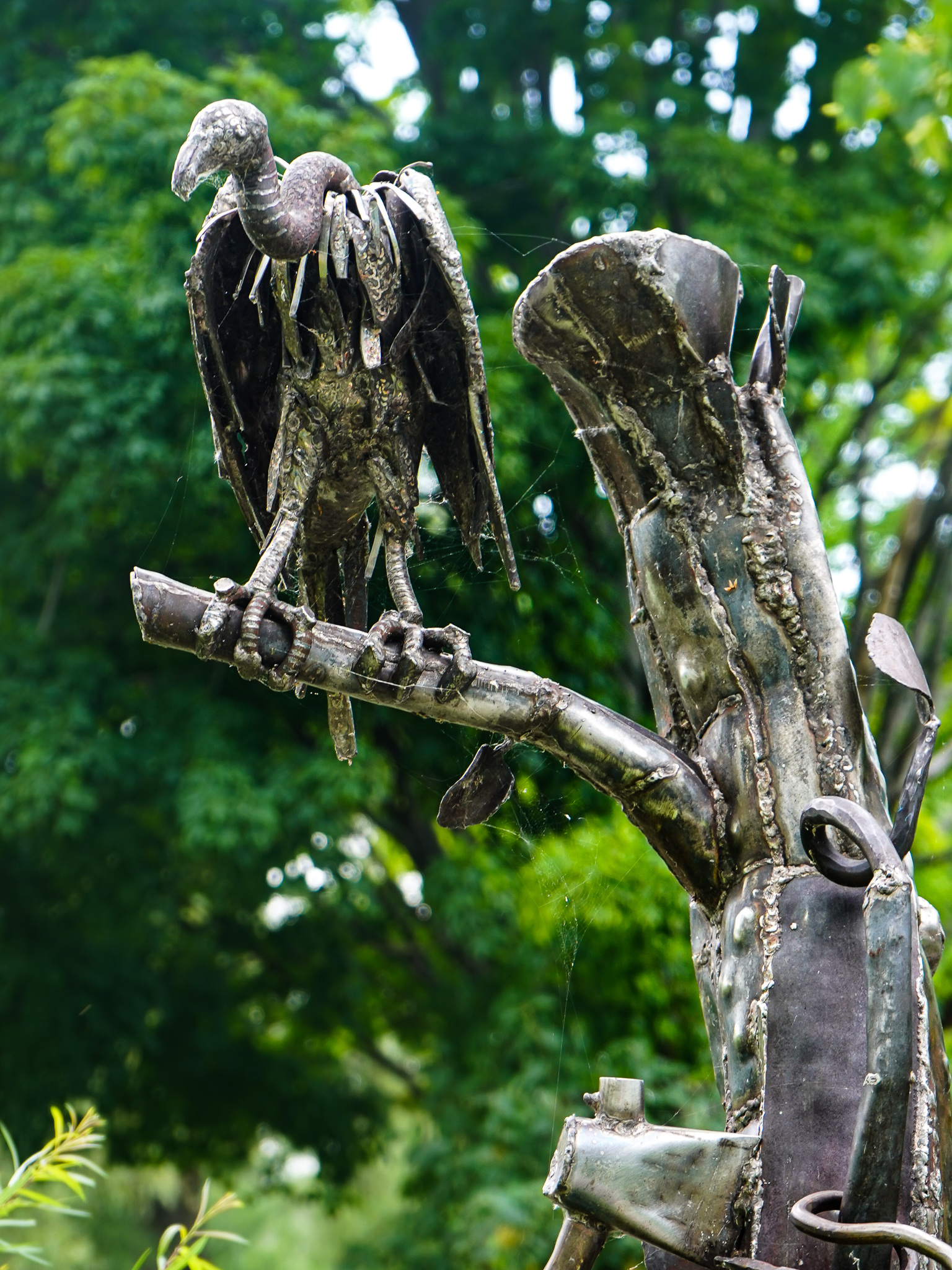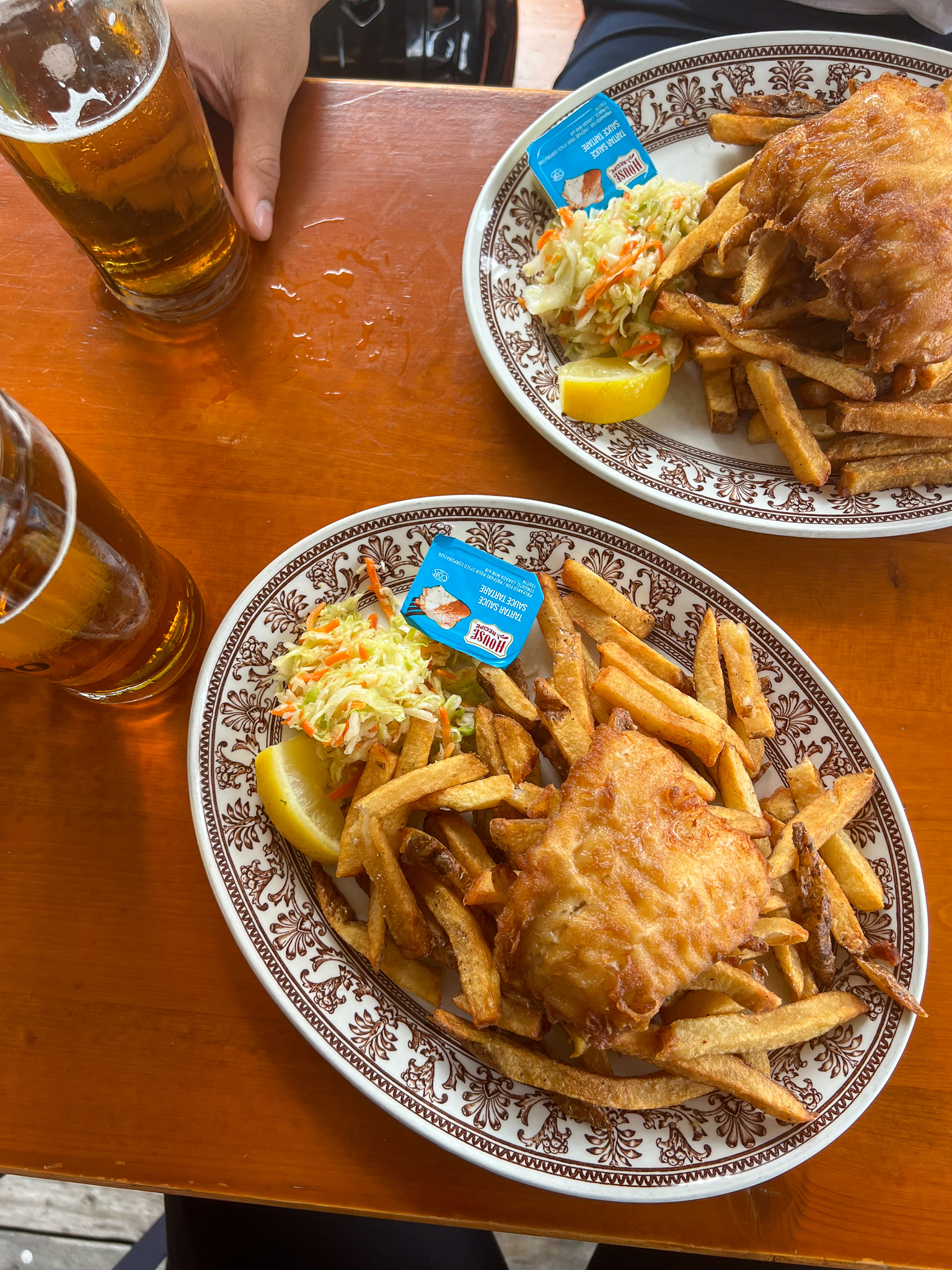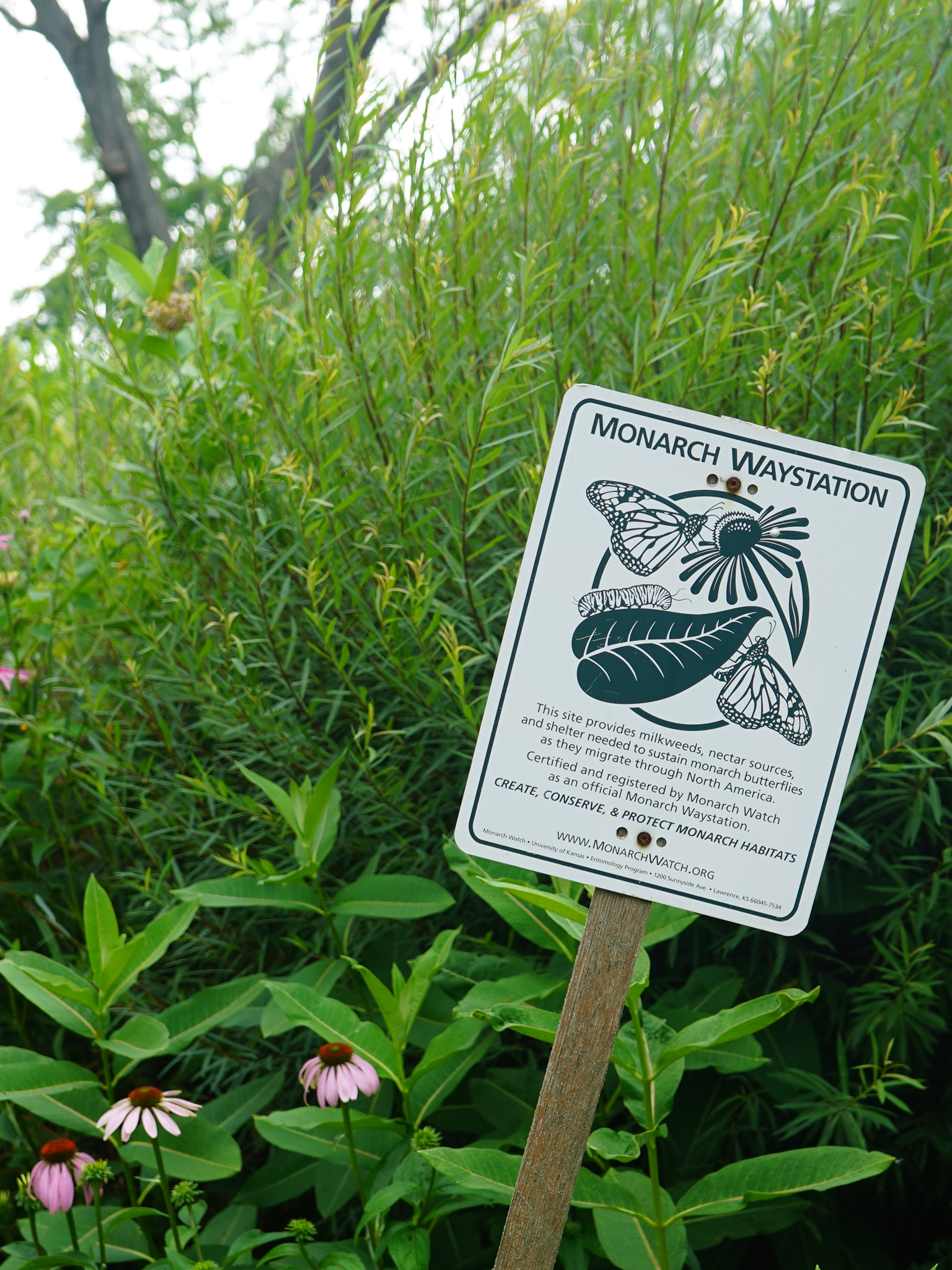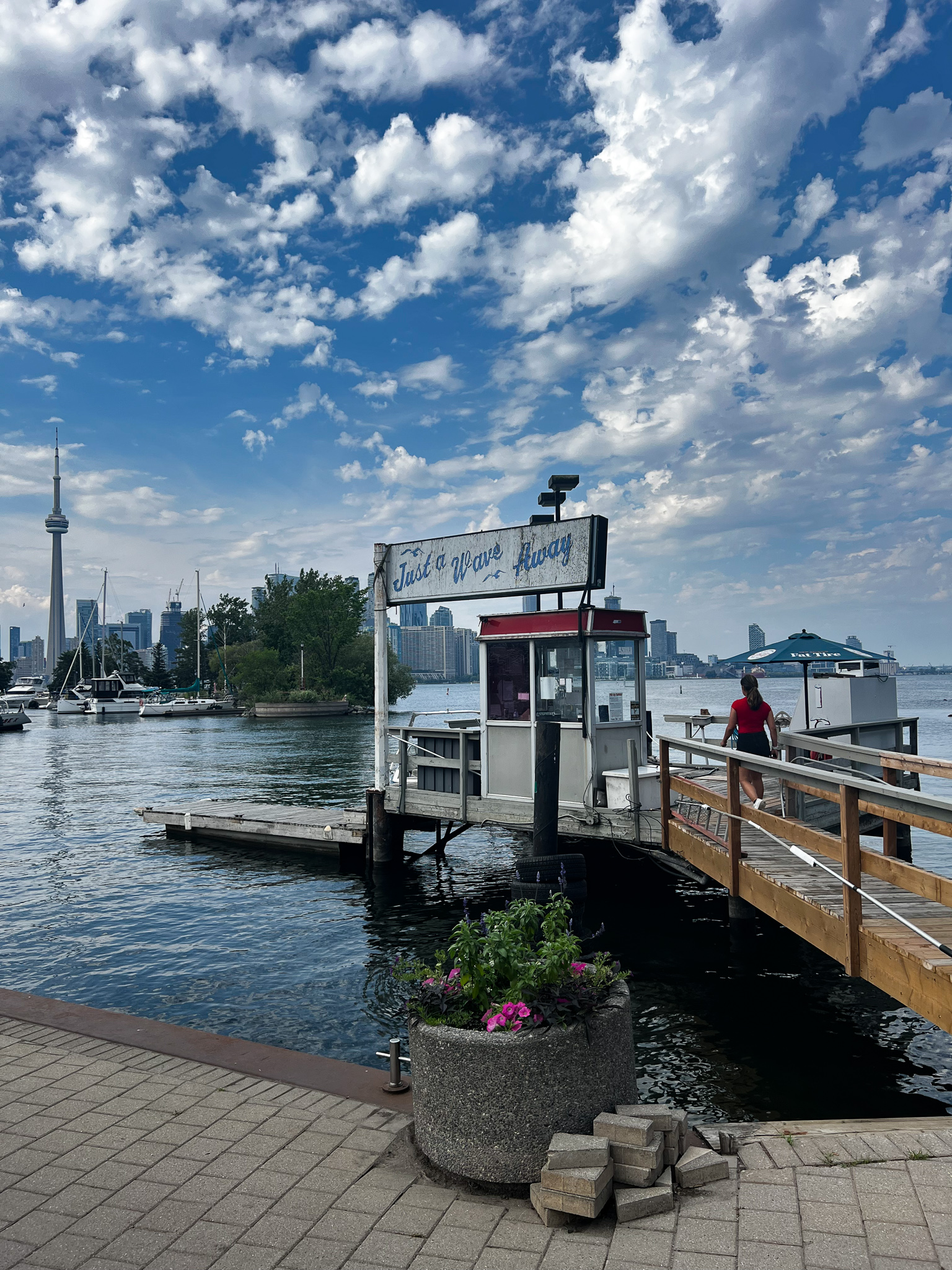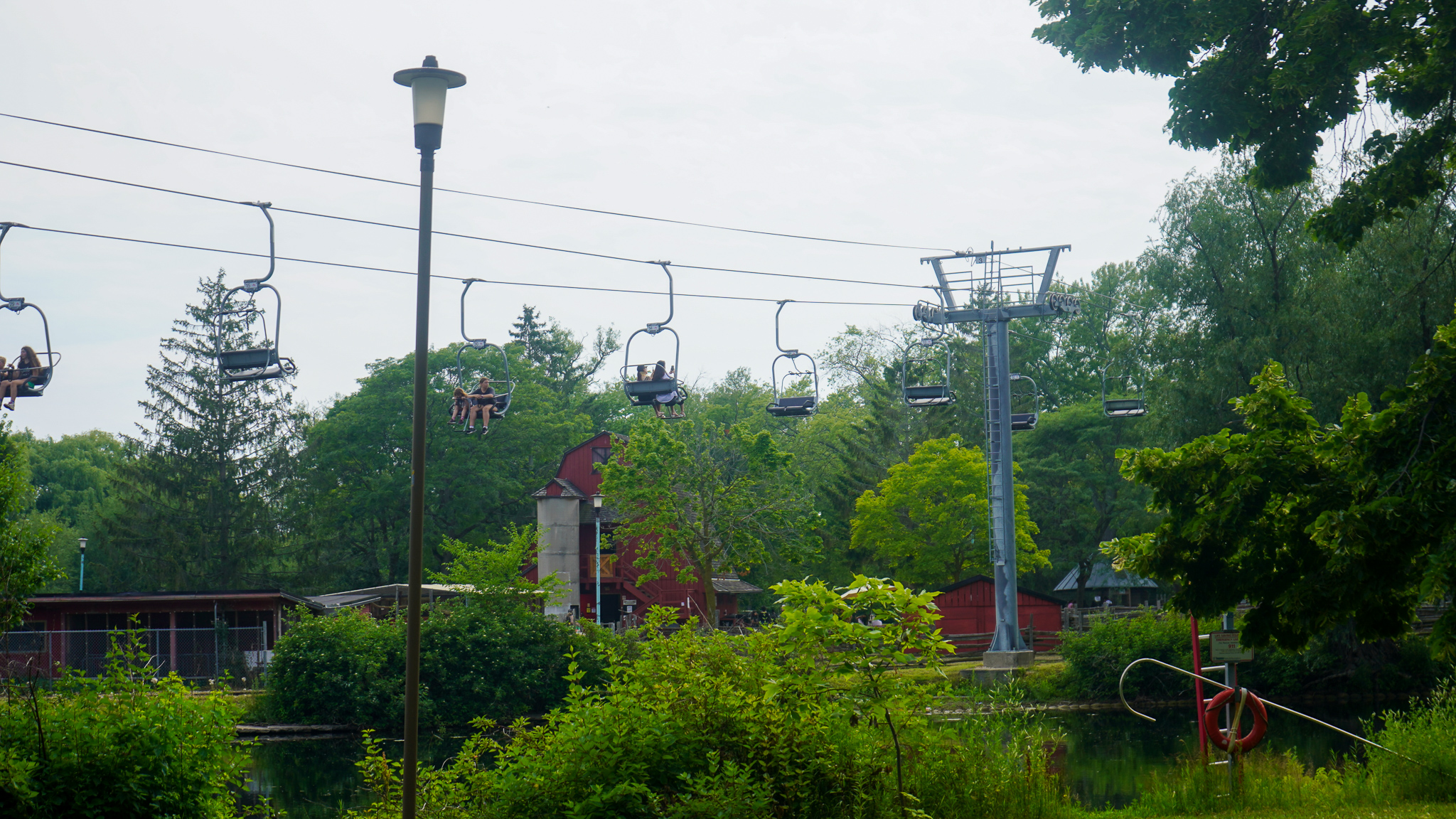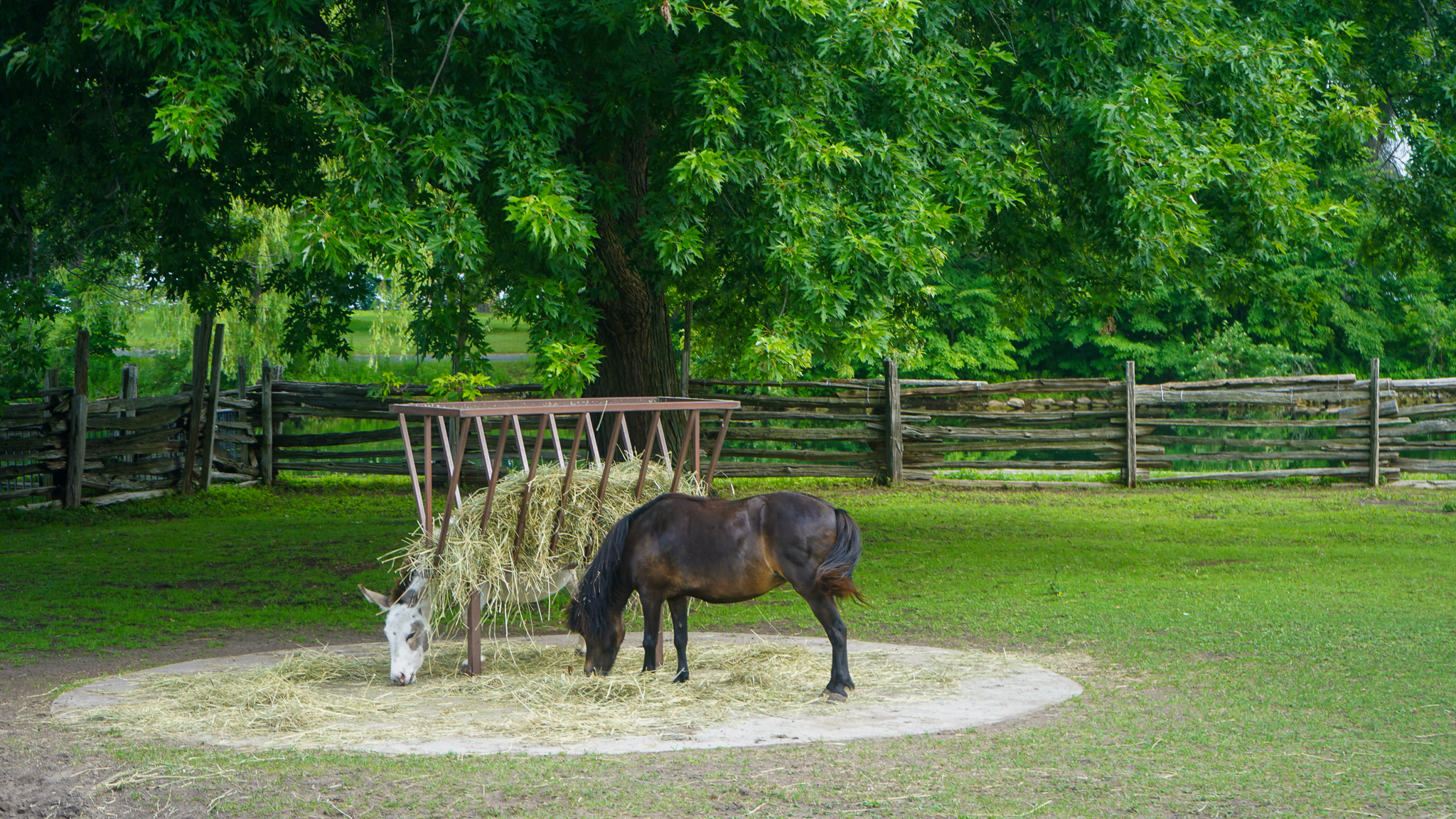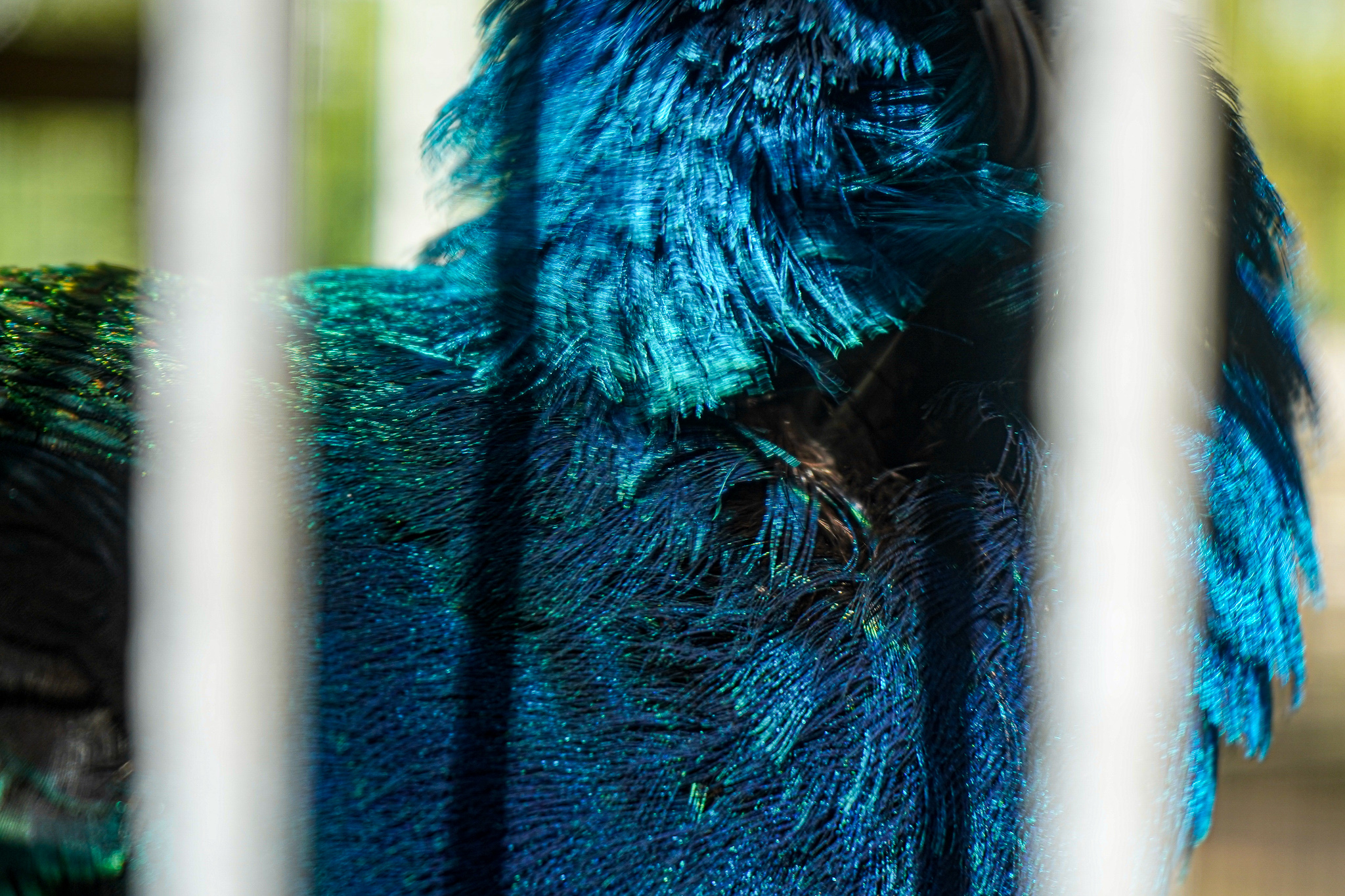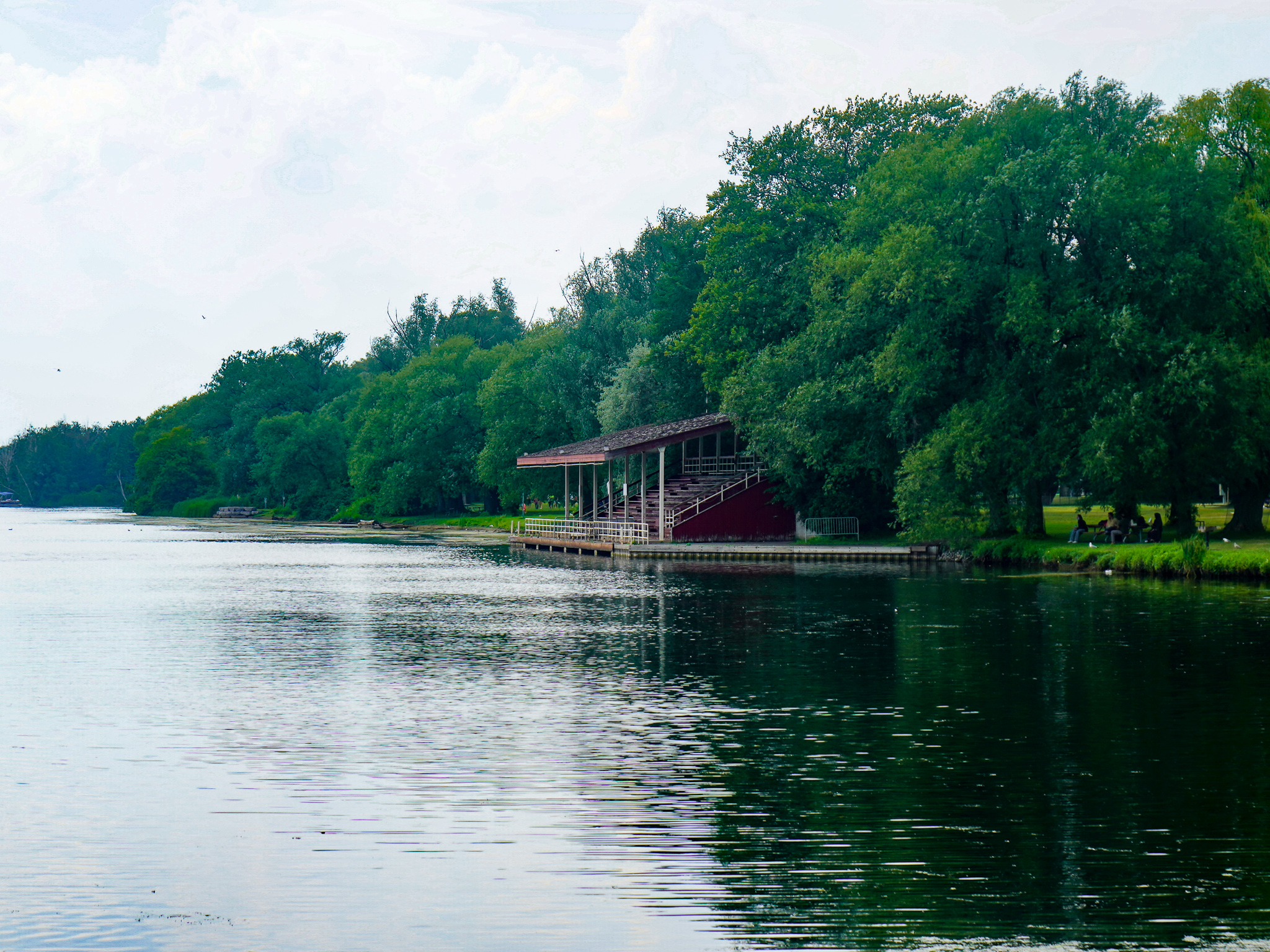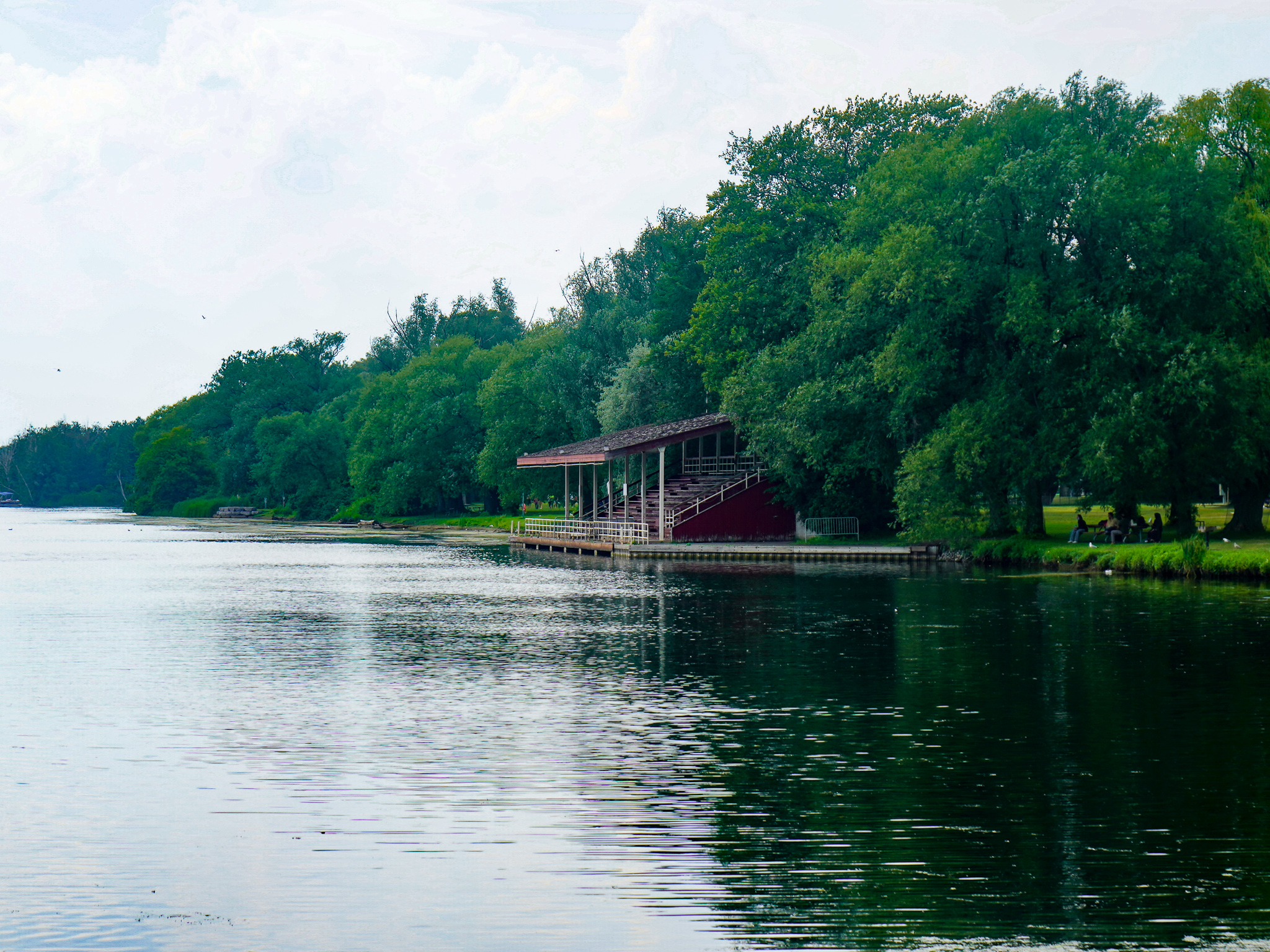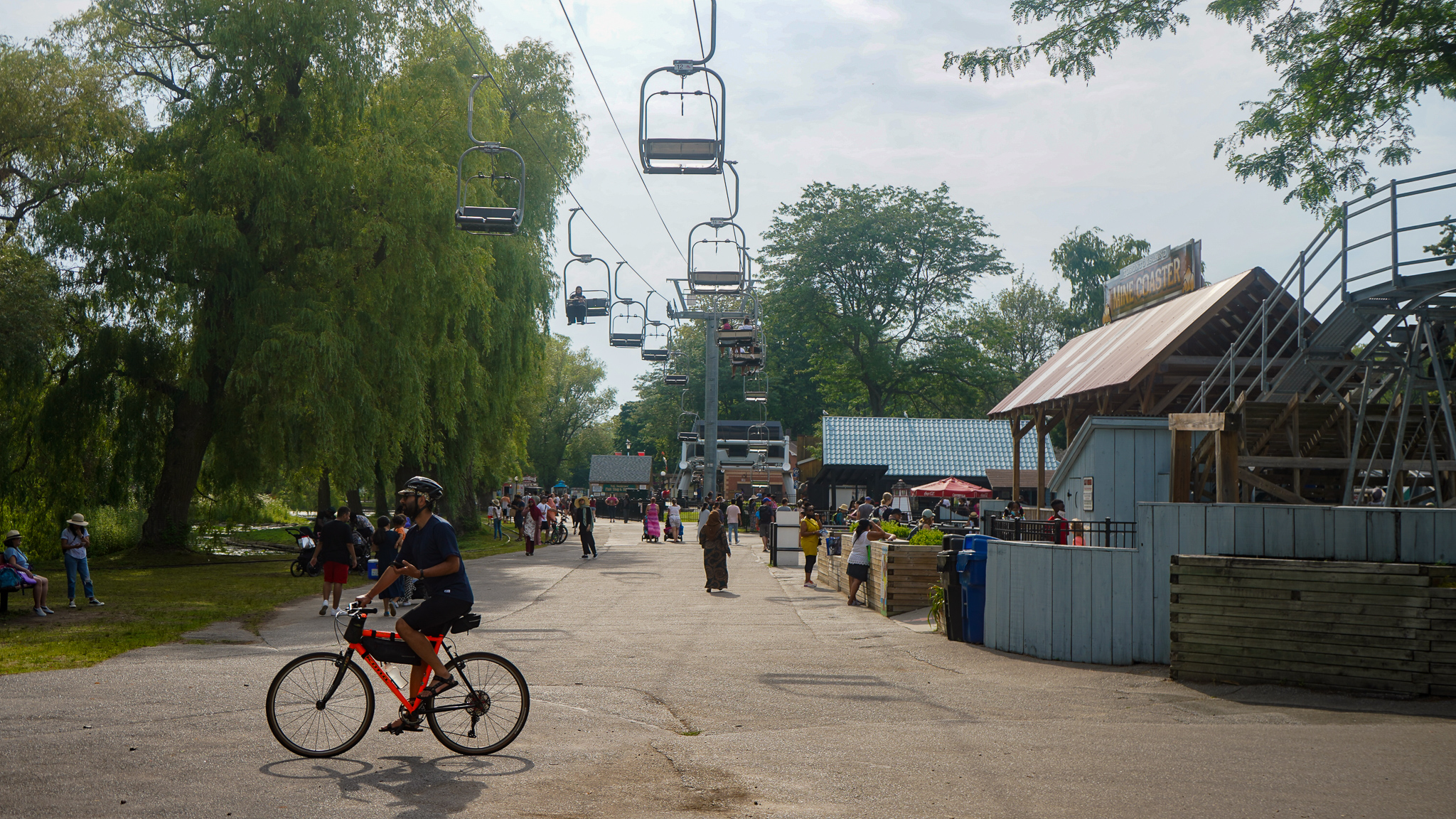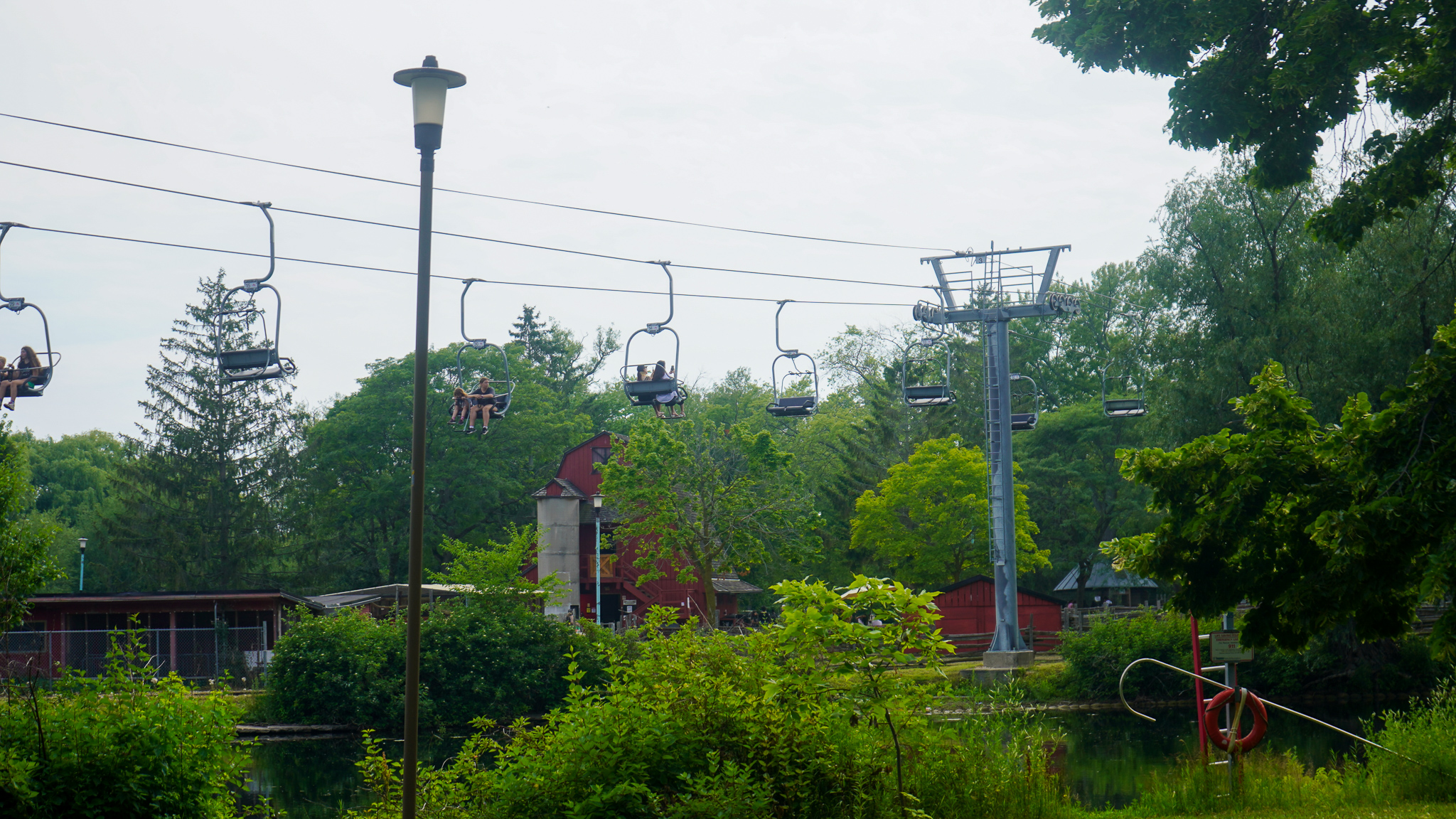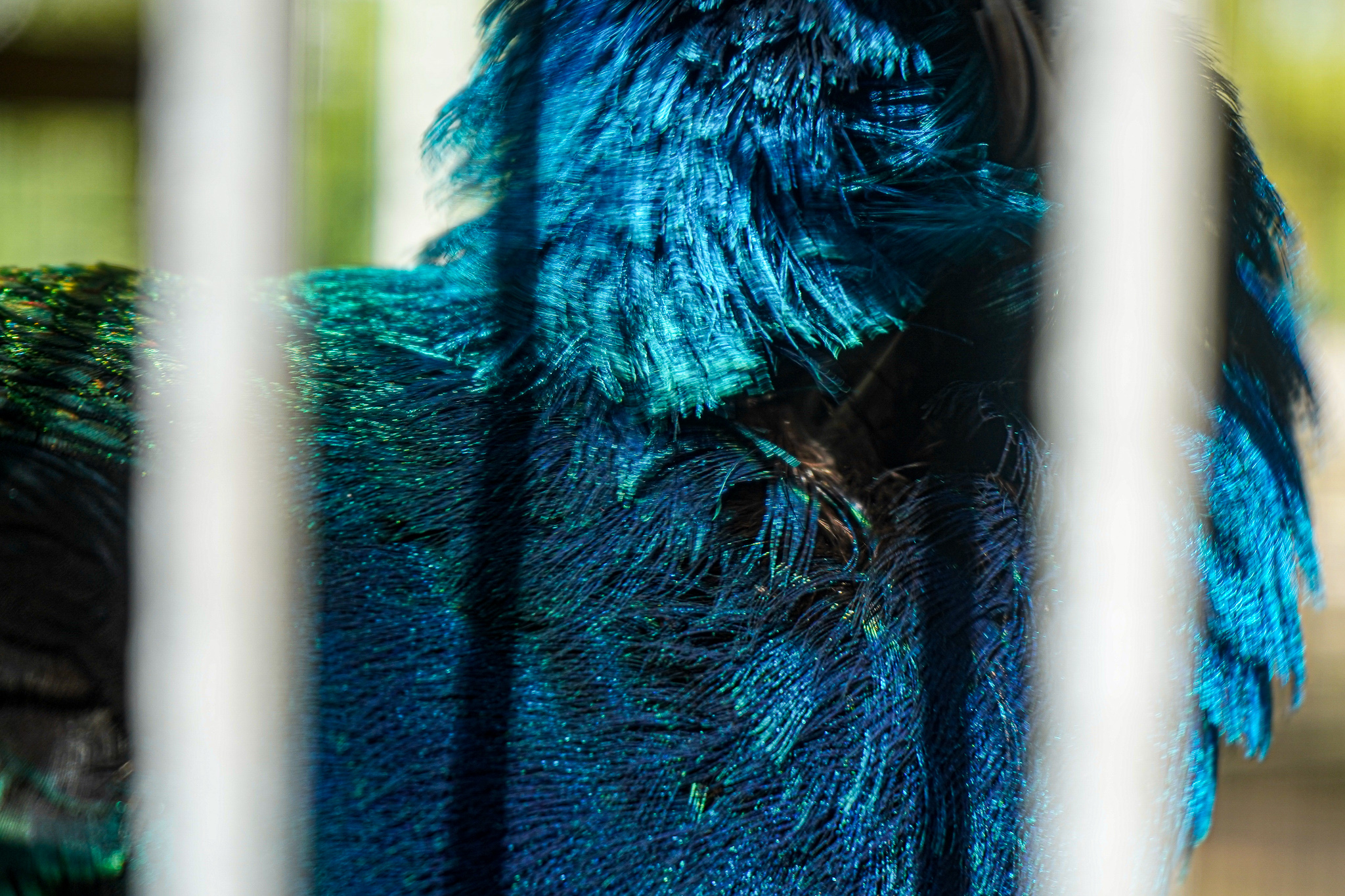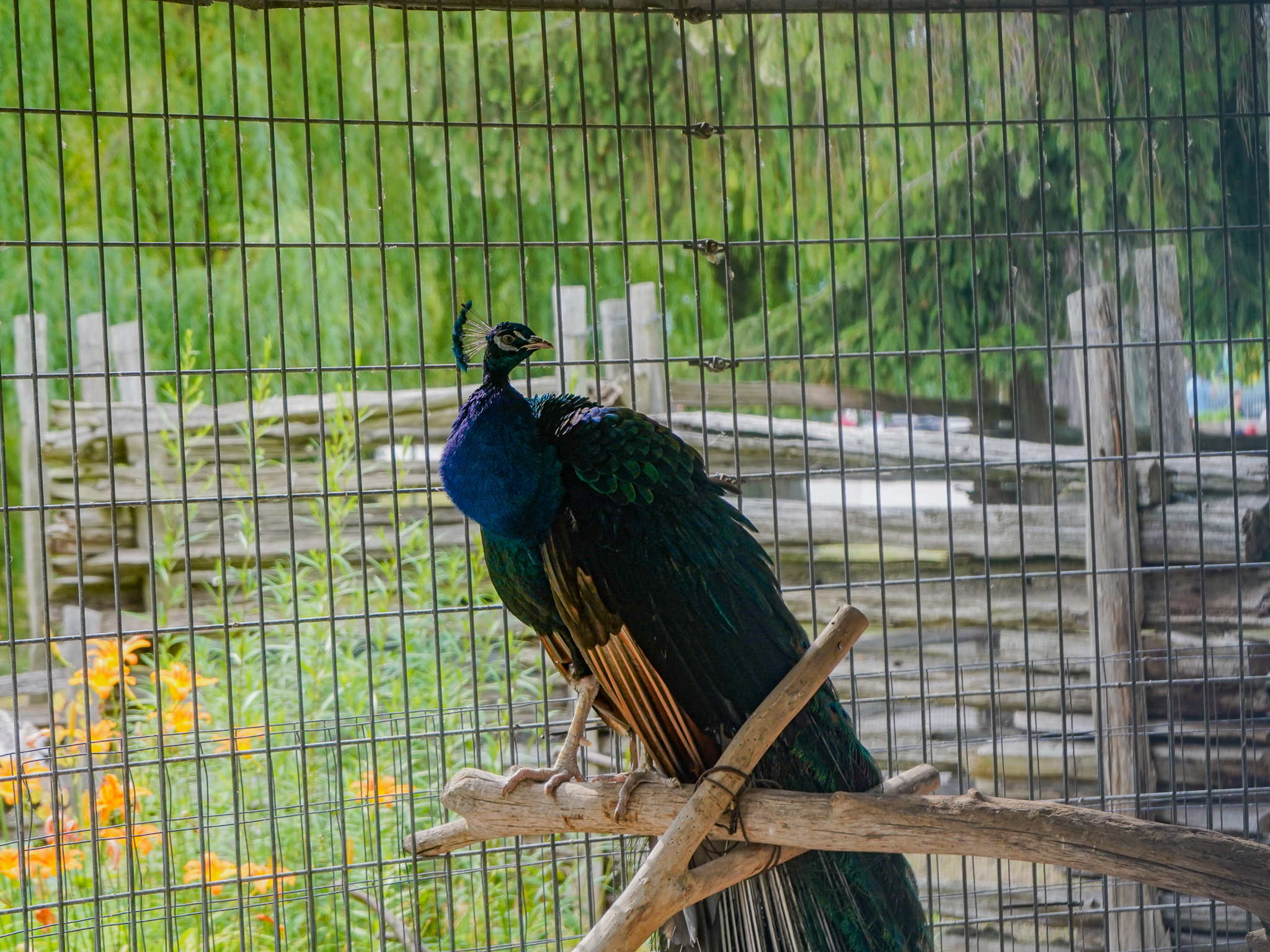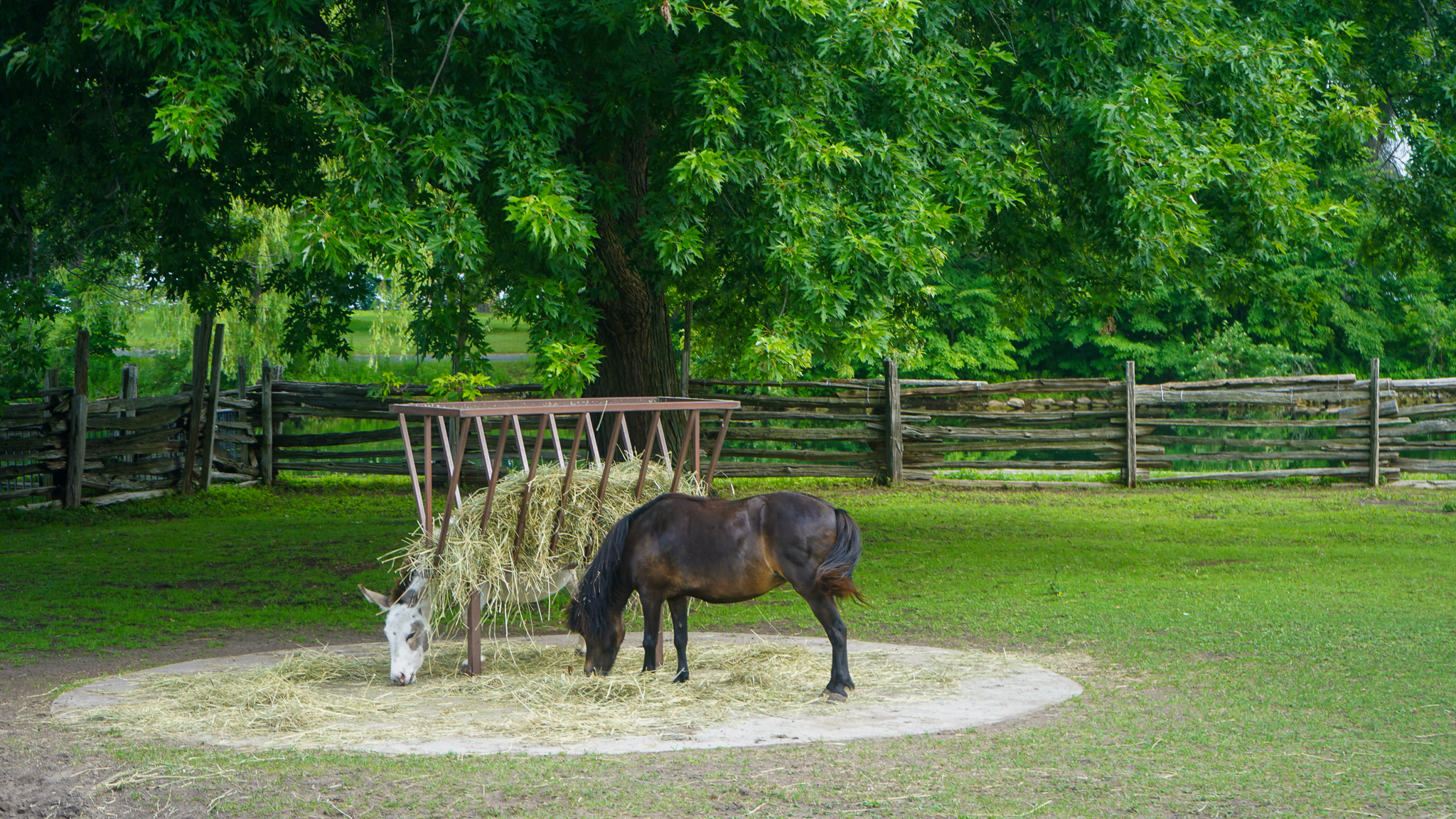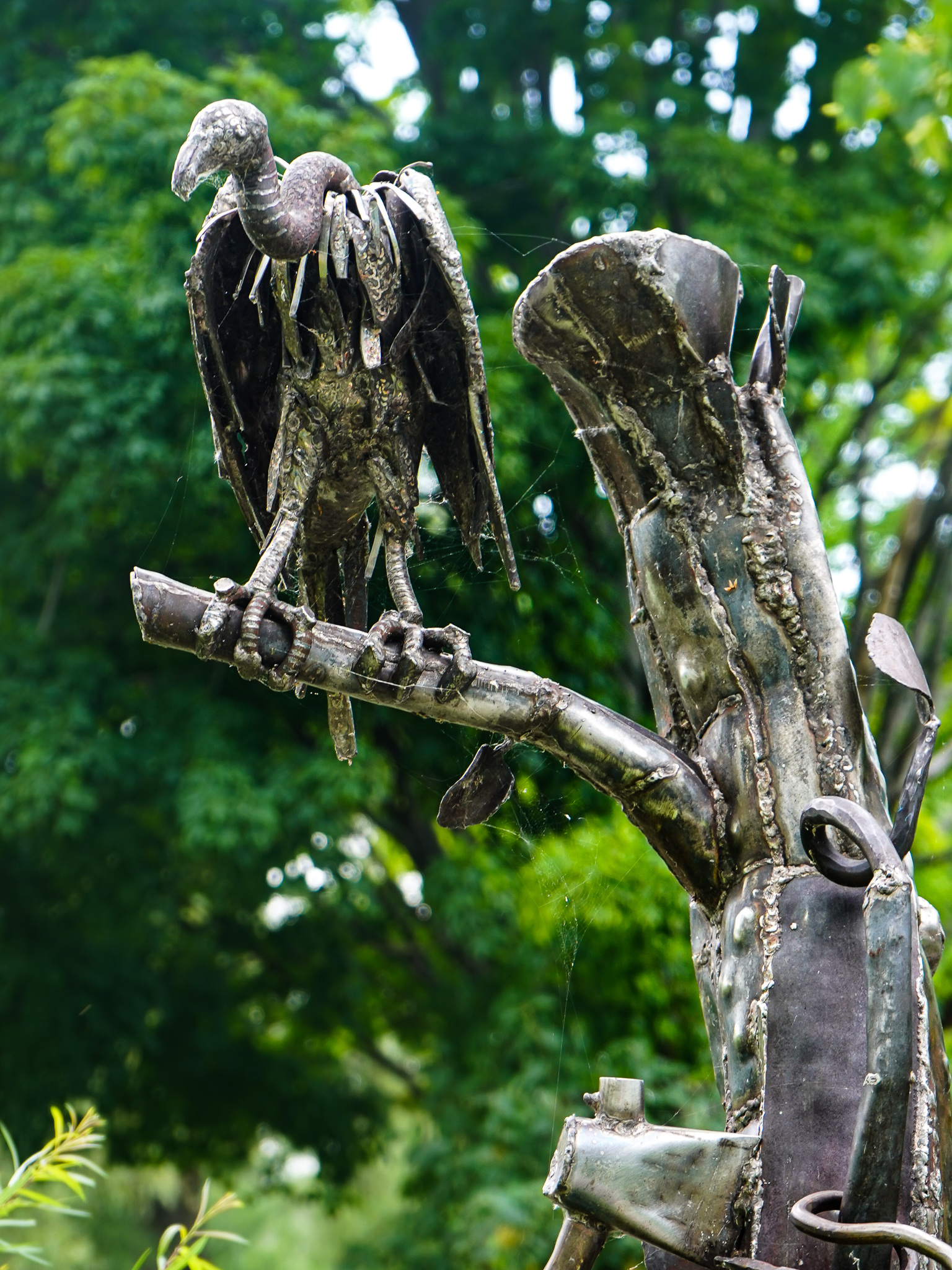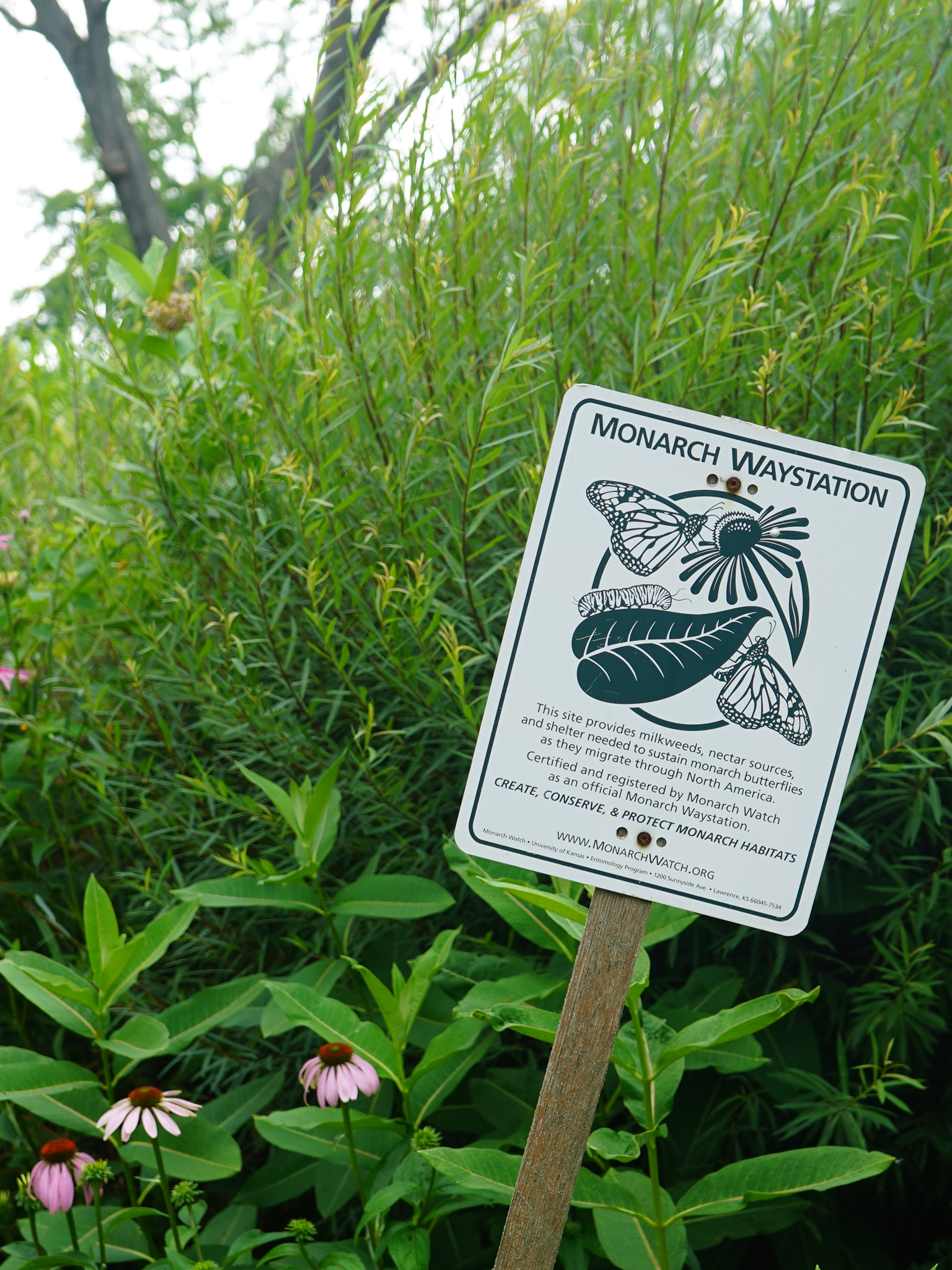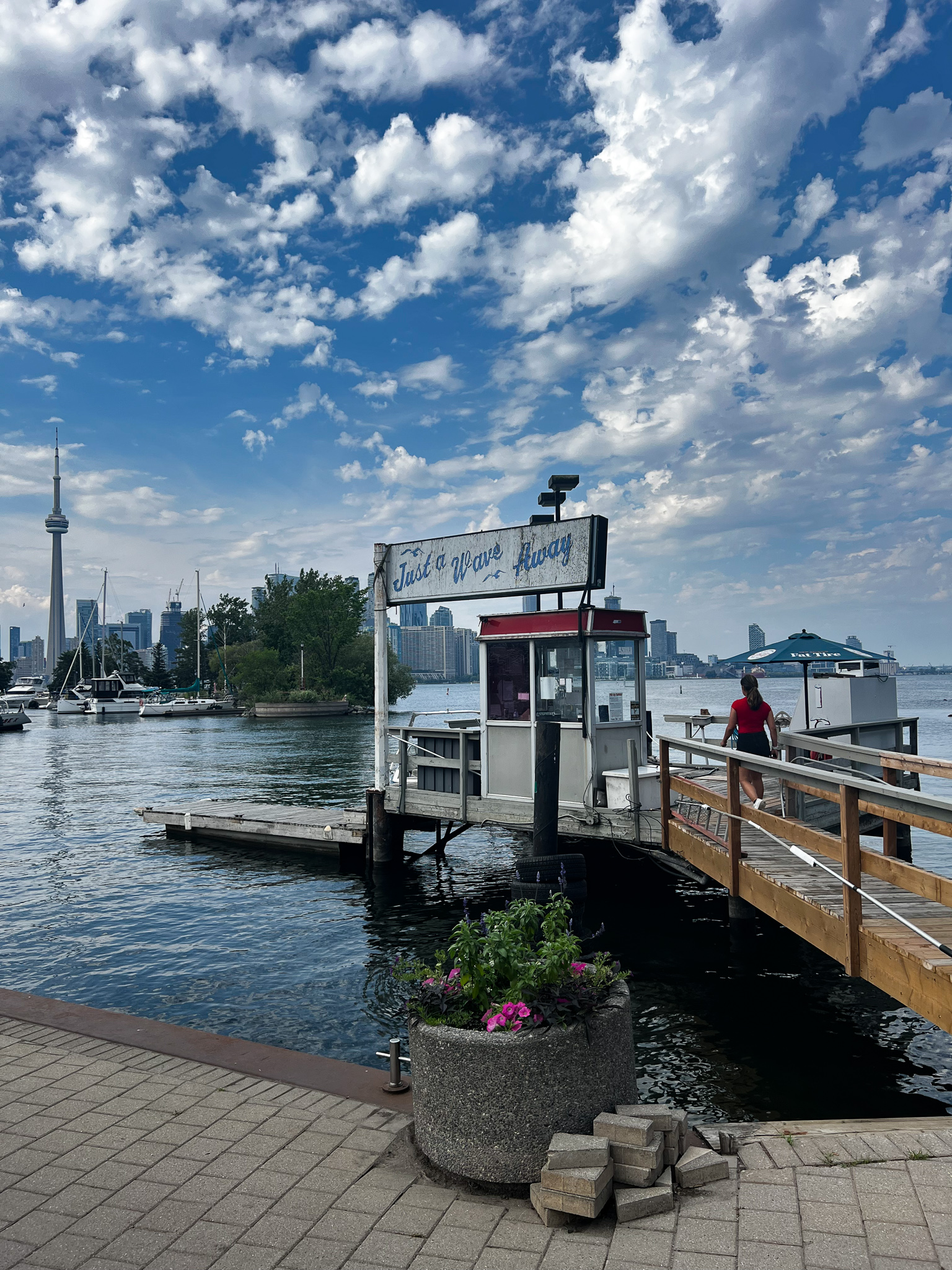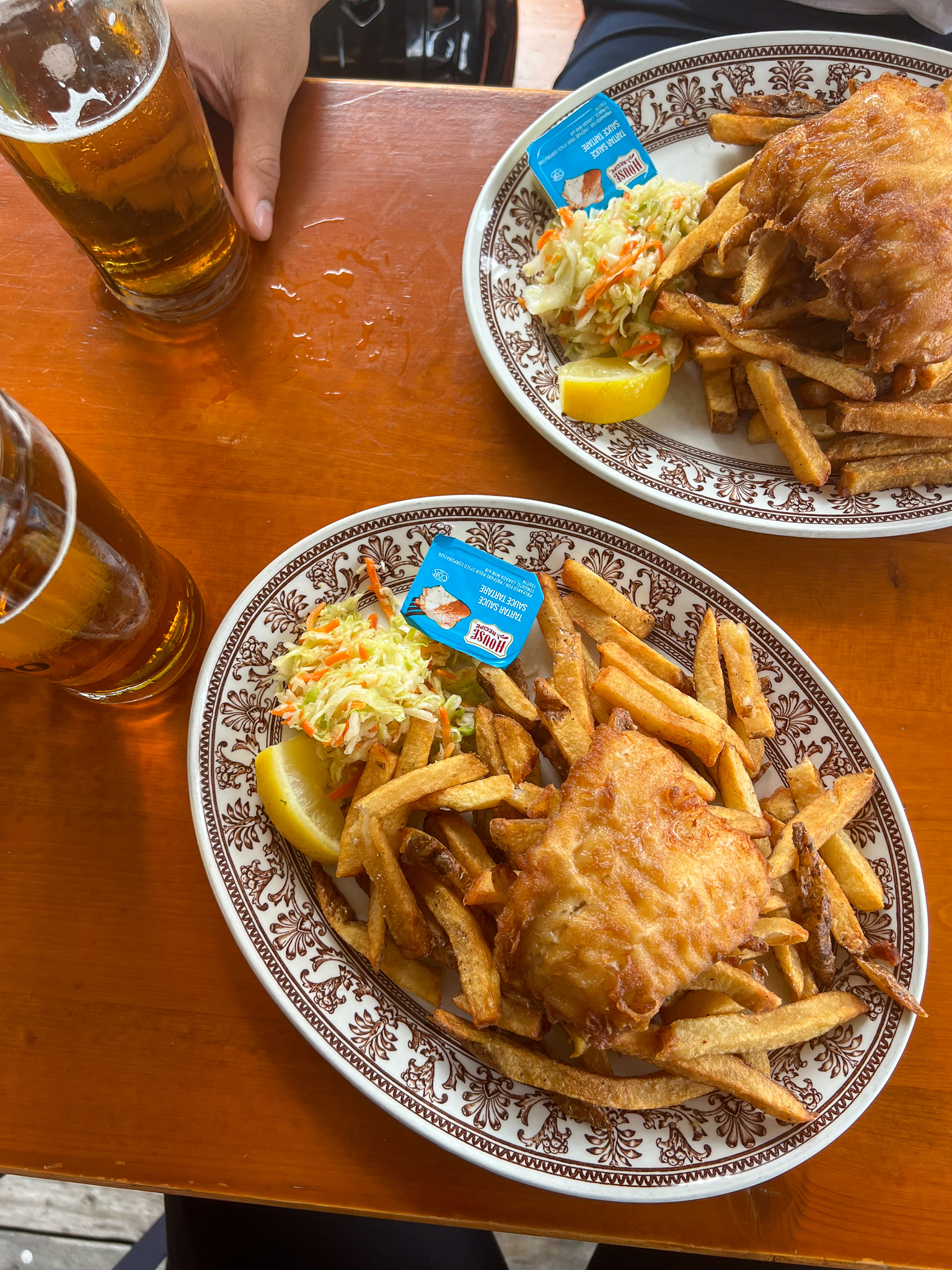 Gibraltar/Manitou Beach
The Foundation for Environmental Education certified Gibraltar Beach as a Blue Flag Beach for the 2022 summer season to reward sound environmental education, management and water quality and safety. Basically, it's a clean and safe beach that you can feel good about using knowing that it's sustainably developed. If you're looking to go for a dip, there's a patrolled swimming area and plenty of room on the sand to hang out. You can also find outdoor beach volleyball courts here.
Artscape Gibraltar Point 
The theme of supporting artistry on the islands continues with a former schoolhouse that was turned into a space for local artists to find inspiration and create. Sometimes creativity just needs space to breathe. Artists can book short term residencies to get away from the distractions of the city and approach their work from a new perspective. Parked out front is a beautifully restored vintage bus with its own story. The current Gibraltar Lighthouse keeper Manuel Cappel drove the old bus across the country from Calgary, picking up a few hitchhikers along the way to make the journey. It's now used rarely as a shuttle bus for the Islands.
Gibraltar Point Lighthouse
Originally built in 1808 before being expanded  in 1832, this is the most haunted part of the Islands. As the story goes, the first keeper Paul Radelmuller met an untimely end at the hands of some local inebriated soldiers looking for more bootlegged beer. For what it's worth, we didn't see or hear any ghosts during any of the afternoons we've spent here. Maybe it's an only past midnight sorta deal? Either way, it's a trip seeing something that's spent over 200 years standing watch over Lake Ontario – warning passing ships not to get too close to the rocks.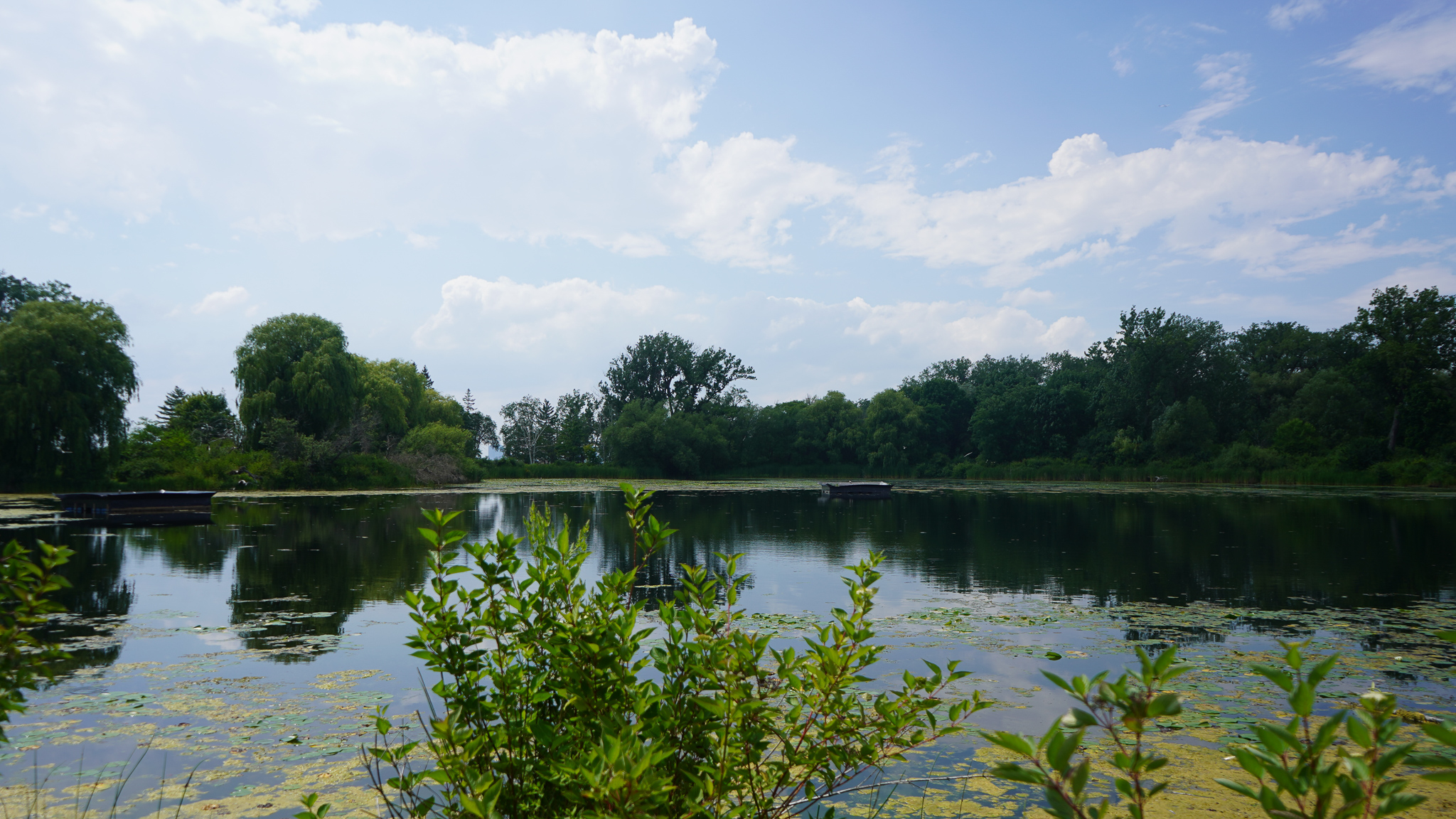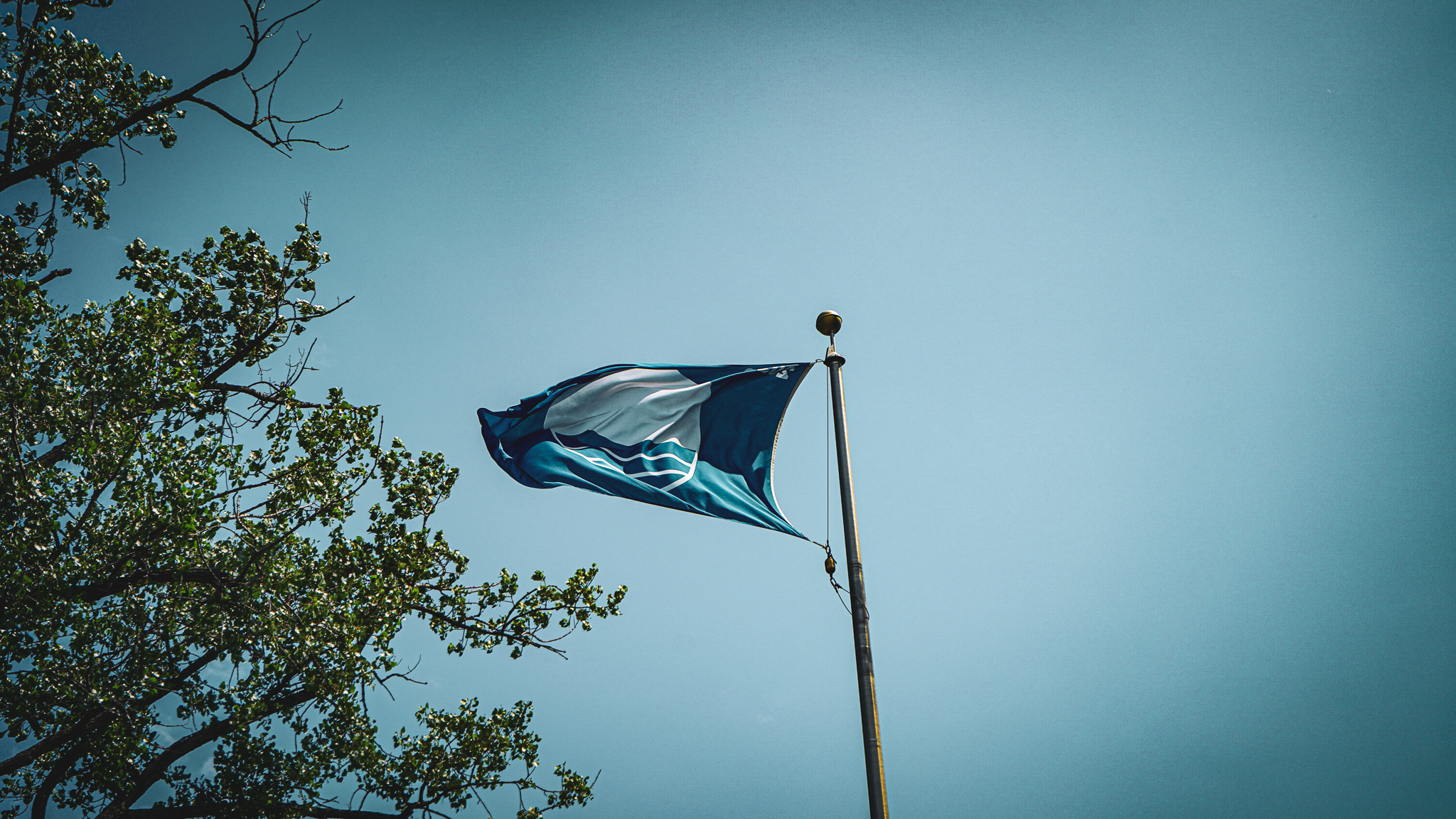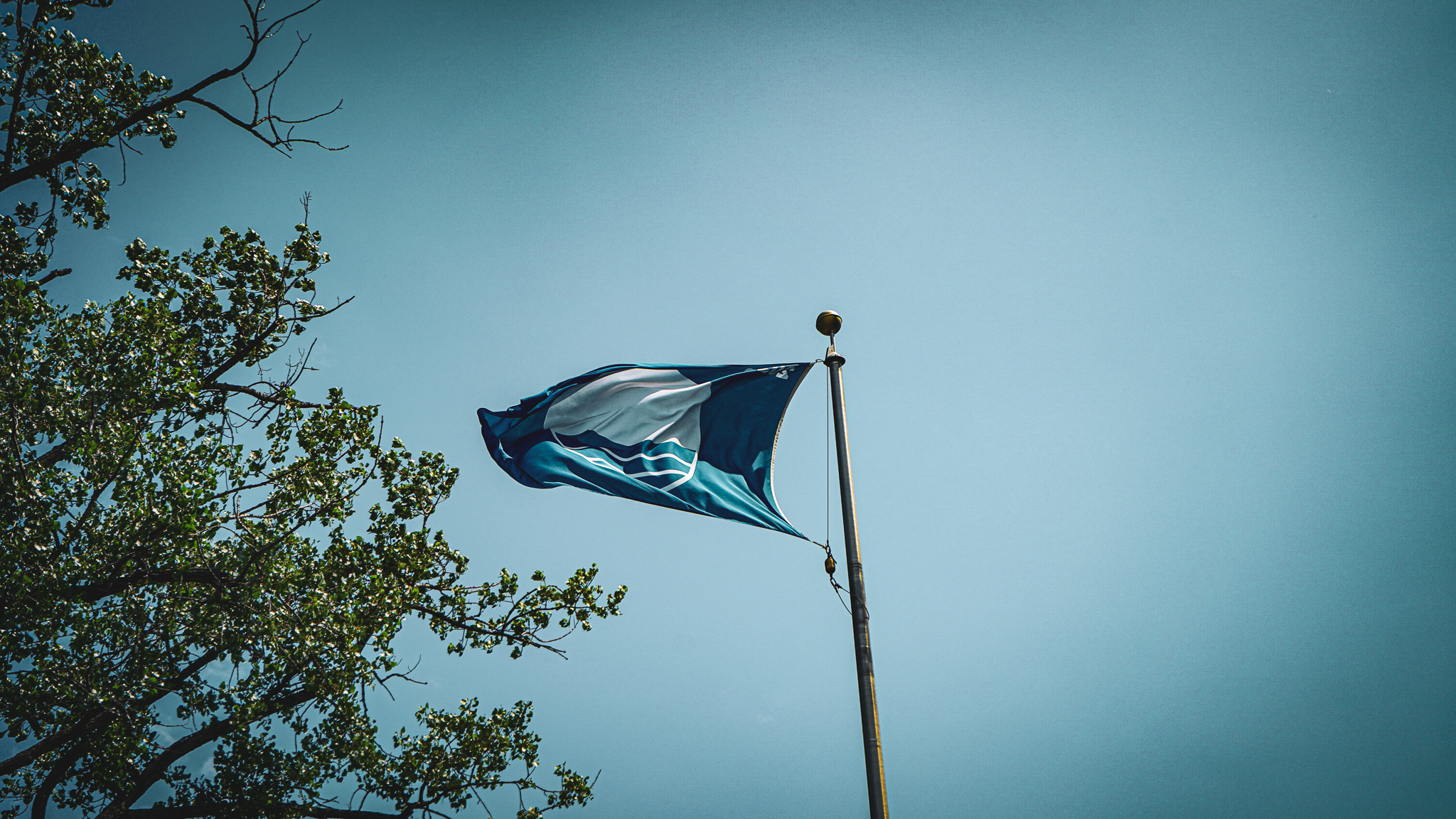 Hanlan's Point Clothing Optional Beach
One of apparently only two official nude beaches in all of Canada, Hanlan's Point Beach also has a clothing required section. The sheer numbers of bikes locked out front is a perfect representation of just how busy this section of the beach can get at peak times. With all that being said, it's a vibe. This beach has been a hotspot in Toronto's queer community since the 1950s and even led to Toronto's first Pride event as KC Hoard writes about in their article for the Narwhale here. 
Billy Bishop Airport/Hanlan's Point Stadium
The site of present day Billy Bishop Airport had a much more exciting past if you're a baseball fan. Hanlan's Point Stadium used to be home to the Toronto Leafs baseball team, and in 1914 was the site of baseball's greatest ever hitter Babe Ruth's first professional home run. Today, instead of baseballs flying out of a stadium, we have small airliners flying out of the airport. It's a cool novelty seeing airplanes flying overhead while you ride the ferry to the Islands, but environmentalists and residents of the city alike are concerned about a possible expansion of flights both in size and frequency.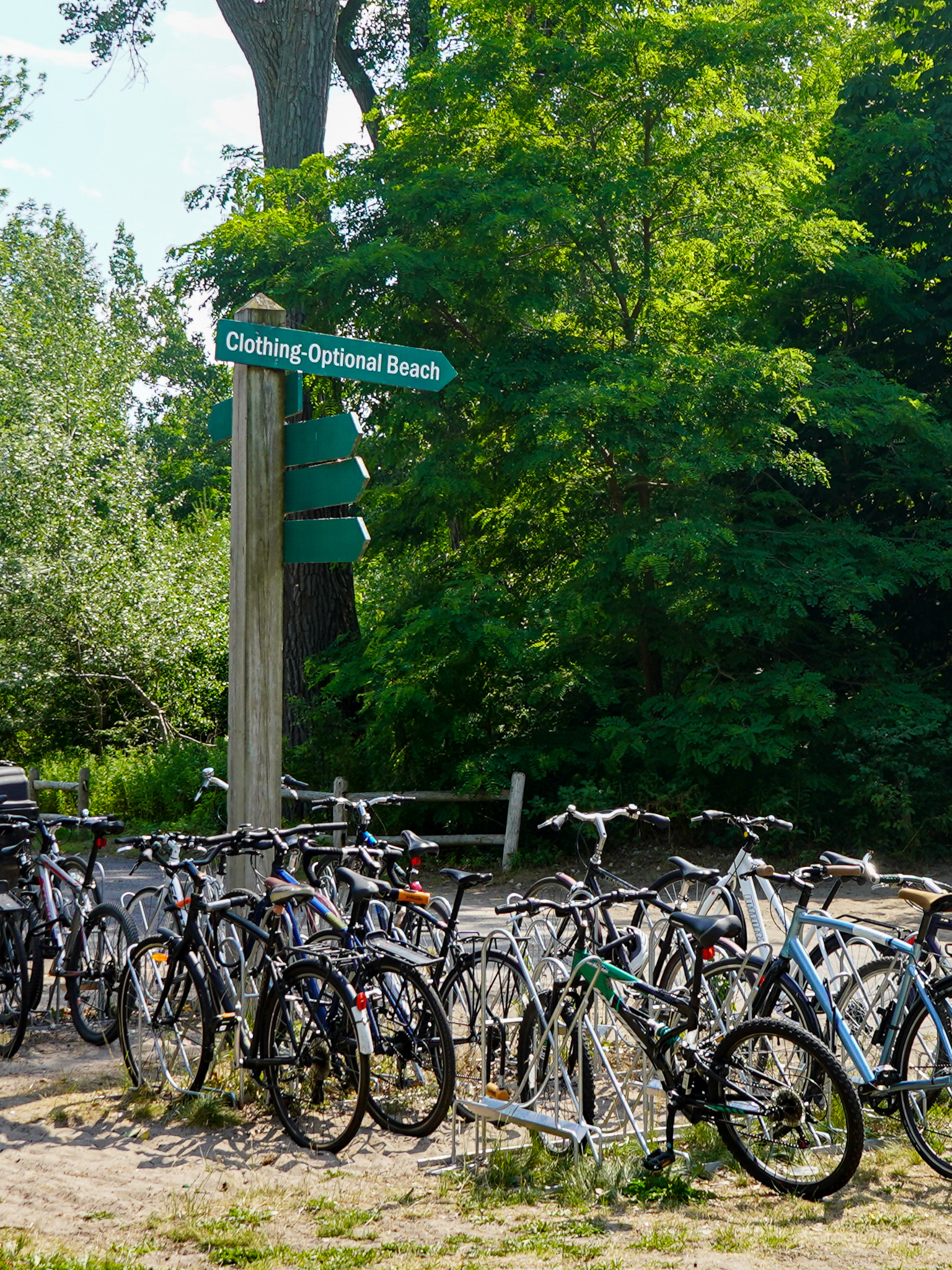 Image Source: https://twitter.com/matttomic/status/1169581201482485760?s=20&t=O67W9rU7q0YqG3egHxgIZQ
Image Source: https://www.thespec.com/news/canada/2013/04/10/porter-airlines-faces-rough-ride-as-it-announces-plans-to-fly-jets-at-toronto-island-airport.html
Image Source: Kirk Lisaj, The narwhale, https://thenarwhal.ca/pride-2022-hanlans-point/
Image Source: Paul Bruch, CC BY-SA 2.0 <https://creativecommons.org/licenses/by-sa/2.0>, via Wikimedia Commons
Image Source: Paul Bruch, CC BY-SA 2.0 <https://creativecommons.org/licenses/by-sa/2.0>, via Wikimedia Commons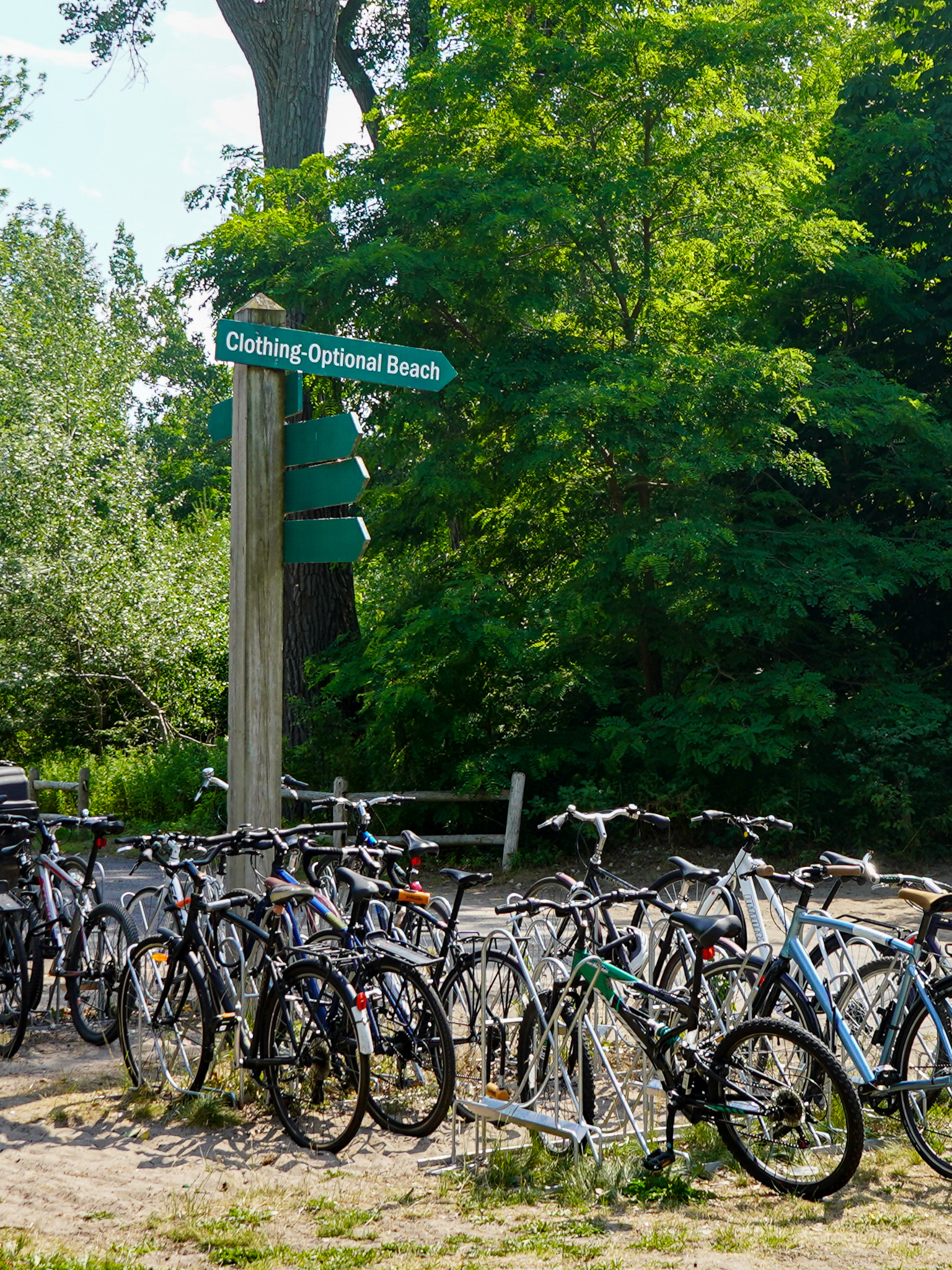 Image Source: Kirk Lisaj, The narwhale, https://thenarwhal.ca/pride-2022-hanlans-point/
Image Source: https://twitter.com/matttomic/status/1169581201482485760?s=20&t=O67W9rU7q0YqG3egHxgIZQ
Image Source: https://www.thespec.com/news/canada/2013/04/10/porter-airlines-faces-rough-ride-as-it-announces-plans-to-fly-jets-at-toronto-island-airport.html
You've reached the end of the line. No more Island left. Take the ferry from Hanlan's Point Ferry Terminal back to land or loop back around for a cruise all the way back to Centre Island or Ward's Island Ferry Docks. Like we said, there's a lot to see and do on the Islands and it can be really easy to miss something. That's okay! They'll be here waiting for your next adventure. By now you should be getting the vibe for each part of the islands. The next time you visit, tailor your day accordingly. 
Thanks for checking out another ride! Once again, if you have any comments, questions or suggestions send us a message on instagram
@thedriveside.
Be nice, ride a bike and repeat y'all.